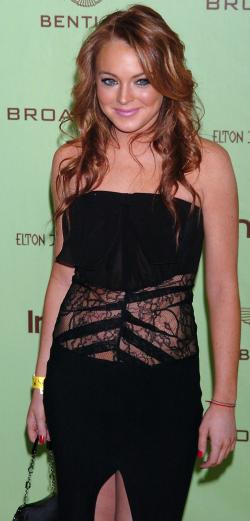 The newly brunette Lindsay Lohan, actress and singer extraordinaire, has recently admitted in a candid interview with Vanity Fair that she suffered from bulimia last year. The 19 year old told Vanity Fair, "I was making myself sick." Lohan's problem came to a head when comedienne Tina Fey and "Saturday Night Live" executive producer Lorne Michaels had a talk with her before she was slated to host the show's season finale in May 2005. "They said, 'You need to take care of yourself. We care about you too much, and we've seen too many people do this, and you're talented,' and I just started bawling," Lohan said. "I knew I had a problem and I couldn't admit it." Guess that's why she kept denying it to the papers as well.
Yeah, it's sad when a fairy tale comes to an end, but it's really sad when a fairy tale-like couple call it quits. The story ended for singer Jessica Simpson when she filed for a divorce from husband Nick Lachey last month, and now People magazine reports that the house they lived in while filming "Newlyweds" is up for sale. Simpson's publicist Rob Shuter confirmed this report Jan. 9. The Calabasas house featured on MTV's show includes a screening room and music studio, and is being listed for $3.75 million, People magazine reported.
Speaking of newlyweds, "Alias" star Jennifer Garner is reportedly so proud of being married to actor Ben Affleck that she eschews modern views on the matter and uses his last name when signing official documents. Star magazine reports that when the couple recently made a contribution to the democratic gubernatorial candidate in Massachusetts, the traditional Garner reportedly made her online donation under the name, "Jennifer Affleck." Props to you, Jen. You're not the only woman who's dying to sign her name "Mrs. Affleck."
Pop singer Pink married motocross biker and Surreal Life star Carey Hart last week in a sunset ceremony on a secluded beach in Costa Rica. Pink, 26, and Hart, 30, were joined in holy matrimony in front of more than 150 guests, Us Weekly reported. Pink told Hart, "I love you because I let you hold my heart and you haven't broken it." As for Hart, he told Us Weekly, "I'm just excited to be married to her. I don't even care about the honeymoon." Sources at the wedding say that the normally adventurous Pink was dressed demurely in a cream gown and her blonde hair was topped with a black ribbon edged in pink.
Quotes of the Week:
"I think I would be a nanny. I heard it pays pretty good and the perks are better."
-Sienna Miller on what she'd be doing if she wasn't acting.
"They know what those 14 and 16-year-old boys are thinking. You know why? I told them." -Bruce Willis