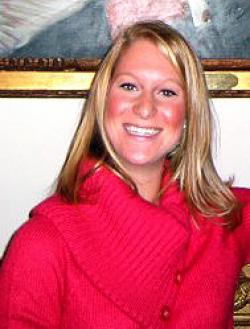 Between studying academics, working in the nation's capital and traveling abroad, Julie Brown is undeniably a busy woman – and she has no qualms about it.
Although she's a junior majoring in International Studies at Northern Kentucky University, this 20-year-old spent the fall semester interning in Washington, D.C.
Brown spent a few summers in the district before the fall internship where she worked on Capital Hill and in the Department of Labor.
"It (going to the district) is addicting," Brown laughed. "It's a whole lot of fun, young people – energetic about America and believing in what it stands for." She added, "I guess I'm into politics, but I'm more driven by the atmosphere and people's knowledge of things. Every time I go, I meet other people who have experienced a total different life than I have."
Once Brown finished her internship with the Department of Labor last summer, she had eight weeks to get ready for her fall internship with the Office of Political Affairs. There, she worked as a secretary for an associate director.
"Every day actually changed – there were the standard duties of a secretary, but then there were other things that I did," she said. "I hate to say that I can't really talk about (the other duties), but I can't."
"I was actually in the Eisenhower Executive Office Building, which is right next to the White House, so there were always people going in and out," she continued. "And, yes, every time I saw the president or the vice president I guess I was star-struck or whatever, but it's their job, it's their workplace