Lady Norse dominate on defense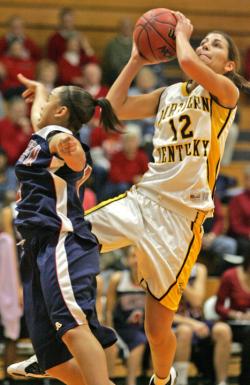 HIGHLAND HEIGHTS, Ky. – Over the years, outstanding defense has made Northern Kentucky University a national power in women's basketball.
That defense – No. 1 in the Great Lakes Valley Conference in stopping the opposition from scoring in the latest statistics – was at its best in the second half Saturday afternoon against visiting Southern Indiana.
NKU limited Southern Indiana to just eight points during the first 10 minutes of the second half and rolled to a 62-43 victory in Regents Hall.
The Norse defense allowed the Screaming Eagles to shoot only 25 percent from the field in the second half and turned a close game into a rout.
"I thought it was the best 40 minutes we've played all year," NKU head coach Nancy Winstel said.
"We've been working very, very hard, but there's still room for improvement. I thought it was, from start to finish, the most focused we were, and we knew we had to be."
"We've been living and dying with our defense and trying to get some shots," Winstel added. "Our defense has got to be there for us, and it was really good today."
Angela Healy led NKU with 12 points and three blocked shots.
The 6-foot-1 sophomore also grabbed seven rebounds and had two steals as the Norse led by as many as 23 points in the second half.
"We ask Healy to do so much, and I thought she just did really a good job," Winstel said. "She's never satisfied, and I'm always on her. She had a great game. She's one of those kids, for us, that is really coming into her own at a time when we really need her."
Katie Butler sparked NKU's first-half run
Karmen Graham and Nicole Chiodi each scored 10 points for the Norse, who were 31-for-39 from the free-throw line. NKU also controlled the rebounding and finished with a 34-26 advantage in that category.
NKU won its fourth consecutive game and improved to 10-3 overall, 4-2 in the GLVC. Southern Indiana dropped to 10-7 overall, 2-4 in the GLVC.
Southern Indiana started off fast and held a 15-8 lead six minutes into the game on a 3-pointer by Katie Thiesenhusen. NKU, however, responded with a 13-1 run to gain a 21-16 advantage on Katie Butler's basket with 5:19 left in the first half.
Butler sparked NKU's first-half spurt with two assists and a blocked shot, while Healy had eight points and two blocks as the Norse took a 29-22 halftime lead.
"I thought that Katie Butler in the first half did a heck of a job in the post," Winstel said.
NKU began the second half with a 17-6 run to take a 46-28 lead on a 3-pointer by Brittany Winner. Southern Indiana, unable to get anything going offensively against the NKU defense, never threatened again.
Winner finished with seven points, seven rebounds and two steals, while Chiodi added seven rebounds and three steals. Thiesenhusen led Southern Indiana with 18 points, but leading scorer Jasmine Baines was held to six points, including just two in the second half.
"I thought we all played well, and we all stepped up," Chiodi said. "We did a lot better controlling the tempo."
A year ago, Southern Indiana posted a 60-59 victory over NKU in Regents Hall. The Norse now lead the all-time series by a 32-16 margin.
NKU will begin a two-game GLVC road trip Thursday with a 6:30 p.m. contest at Missouri-St. Louis.
*Contributed by Sports Information