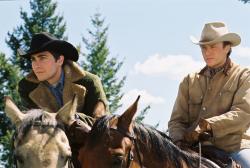 Well, it's about damn time that "Brokeback Mountain" hit theaters in Cincinnati and Northern Kentucky. Since early December, the film that explores the waters that you'd never expect an American cowboy to wade in – especially movie studs Heath Ledger and Jake Gyllenhaal – has been subject to "limited release." As a media junkie, I've seen interviews with one or both of the actors in magazines, Web sites and newspapers all across the board about this supposedly controversial film. All of those media outlets intensified my curiosity – and so two weeks ago my colleagues (Northern Kentucky University seniors Jasper Smith and Thomas Ryan) and I made a pilgrimage up to Columbus (due to the lack of showings in town) to see what exactly "Brokeback Mountain" was all about.
Let me start by saying that the Drexel Gateway Theater in Columbus is amazing. Our tickets (with student ID) were $5 and patrons can also drink beer in the theater (Smith had a nice Amberbock). Anyway, enough of my PR-sounding sentences.
From the opening sequence of "Brokeback," it's clearly obvious that director Ang Lee has redeemed himself since his super-hero flop "Hulk." As far as I could tell, he and the production crew didn't use any of the god-awful CGI graphics for "Brokeback," which he employed in "Hulk." It's as if his two-year hiatus from the film industry helped him learn a lesson about dumbing-down his next feature film, which ultimately proved good for "Brokeback." The vividness of the decadent small towns, prairies and rural life created by Lee really define the film's setting.
Additionally, lead actors Ledger and Gyllenhaal's portrayal of working-class cowboys proved all the more positive in terms of the film's quality.
Due to this film being a hot topic (and because I had watched the trailer), I was aware of what the movie's general premise was: two grown men that end up becoming "more" than just co-workers on a mountain while herding sheep. Like a typical love story – or just a romantic relationship in general – it's inevitable that one party is more dominant than the other. Ledger (who plays Ennis Del Mar) assumed the dominant role: a roughneck who severely struggled to maintain his tough-guy image, an image cowboys are usually subject to.
While Ledger impressively maintains his cowboy persona, with the exception of breaking down occasionally, which was heart-wrenching to most people in the theater, Gyllenhaal is undoubtedly inferior. His role as Jack Twist is hard to interpret.
Unlike Del Mar, Twist seems to come from a more privileged background. He's also clean-cut and more educated, and that's a little too reminiscent of Gyllenhaal's previous roles. However, as Twist gets older, Gyllenhaal eventually blends in with cowboy culture of the 1970s.
I'm curious as to why word on the street is that "Brokeback" is such a controversial film, because honestly, I've seen a lot worse. Lee does an incredible job of handling this sensitive subject, without devastating the careers of Ledger or Gyllenhaal. Sure, there are a few up-close-and-personal scenes involving Ledger and Gyllenhaal, but I think people can handle it. Consider also the loss of focus on the nude scenes involving Anne Hathaway or Michelle Williams.
All things aside, "Brokeback Mountain" is currently a Golden Globe nominee, and I'm sure once it opens Jan. 13 in theaters nationwide, it will receive the "Oscar nod" like critics say.