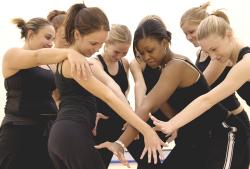 If you opt for a night at the local theater during the month of December, "A Christmas Carol" at the Playhouse in the Park is a surefire way to celebrate the holidays.
Inside the Robert S. Marx Theatre, this particular version of the classic Christmas tale by Charles Dickens is technologically savvy and features a slue of talented actors and actresses.
From the get-go, Bruce Cromer's larger-than-life portrayal of Ebenezer Scrooge captures the audience's attention; he's tall, lanky and has a booming, yet snarling voice that fills the entire theater.
Scrooge follows the traditional plot of this tale. On Christmas Eve, four spirits visit Scrooge to warn him that he'll meet his demise if he doesn't shape up. The chain-wridden Jacob Marley, who was a little too ghastly in this version, is the first spirit Scrooge encounters.
Then he goes on to meet the ballerina-like Ghost of Christmas Past, the over-glamorous, and overbearing Ghost of Christmas Present, and finally the grim-reaping Ghost of Christmas Future.
Because Scrooge interacts (directly and indirectly) with so many people, be it Bob Cratchet, the London townspeople or the figments of his imagination through the aforementioned ghosts, the play calls for many a scene change.
Ipso facto, the use of trap doors that don and remove stage props and the scenery that changes by merely rotating two large set pieces are impressive on the director's part.
Eventually like the plot always begs, Scrooge transforms into a jovial character once he's learned his lesson from the spirits. And surprisingly, Cromer doesn't step out of character for even a moment.
By and large, with the exception of scene involving the Cratchet family, a dull moment never arises within this play. Cromer's role as Scrooge carries the play from beginning to end, but the rest of the cast and theatrical elements involved make it unquestionably worthwhile.