In the hot seat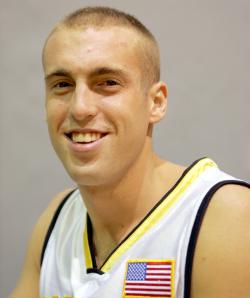 In this week's Hot Seat, Tim Downer interviews Kevin Schappell. Kevin is a junior guard on this year's men's basketball team.
Tim Downer: Kevin, last year you couldn't make a basket if you were wide open, this year you can't miss. What are you doing different?
Kevin Schappell: The other guys on my team (Rhino, Billy, etc.) penetrate and draw the double team, then kick it to me and I have a wide open shot. Really nothing is different, I am just benefiting from the other guys.
TD: You are getting all those loose balls and steals this year that you missed last year. Did you change your training routine?
KS: Yes, I went on the Nathan Rutledge (our manager) workout program. TD: If I recall right, last year you got pushed around a lot underneath but this year you are holding your own. Did you do a different weight training program over the summer?
KS: I lifted with the UC basketball team this summer and my body is finally allowing me to gain some weight.
TD: I noticed that you do a lot of talking to the players on the other side, especially at the free throw line, are you talking trash? Are you trying to intimidate them?
KS: No, I'm not talking trash, but rather I love to talk and I talk to everyone that I meet.
TD: Kevin, the team is now 5 and 0 and the defense is doing a pretty good job, is this the reason for your success?
KS: It's a big part, and Coach Listerman has done a great job making sure we are at the right spots and we are well prepared for each opponent.
TD: Are you the go to guy like Mike Kelsey was in previous years?
KS: Our team does not have one go to guy. We can all step up and make big shots and Coach Bez has been stressing that all season.
TD: You scored a career high 24 points against Drury is there a limit to what you can score? KS: As long as my teammates continue to get me open, it makes it easier on me and there really is no limit.
TD: How tough is Coach Bezold on the team in practice?
KS: Coach Bez is a very intense coach and expects people to play hard all the time no matter how many minutes you are on the court. He wants everyone to dive for loose balls and play good defense.