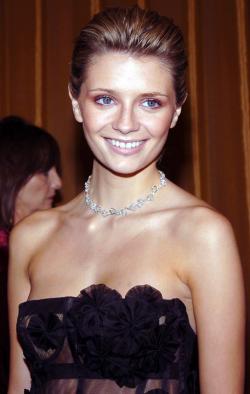 East meets West: Chinese movie star Bai Ling and former Backstreet Boy Nick Carter are dating, and some say considering marriage. A friend close to the couple told Star Magazine that the odd duo isn't just having fun: "They're serious." In fact, Ling, 35, is heading to Europe soon to join the 25-year-old Carter on tour. The friend of the couple denied the marriage rumors, saying, "They're not even close to talking about marriage, but he's really into her." Apparently, because Carter, normally a party boy, has chosen to follow Ling's healthier lifestyle: "Because of Bai, he's a huge health nut now, drinking soy milk," the source said. Star Magazine asked Ling herself about the marriage rumors, who responded, "I am very fond of Nick, and we are dating, but that's it." Let's hope so, because their kids would be hideous.
The Material Girl's had a hard time lately dealing with Sharon Osbourne, the wife of rocker Ozzy, who's been shooting zinger after zinger at her, so she's chosen to retaliate on innocent bystander and fellow singer Gwen Stefani, of whom Madonna claims, "She ripped me off." According to Star Magazine, Madonna, 47, recently said of Stefani, "We work with a lot of the same people. She married a Brit [former Bush front man Gavin Rossdale], she's got long hair, and she likes fashion." I guess the hundreds of thousands of other people who like fashion and have long hair are ripping off of Madonna, too. As for Stefani, she chose to take the high road when she responded, "Show me one girl my age who has not been influenced by her."
Star of the OC Mischa Barton thinks that when it comes to her and Marissa Cooper, the character she portrays on the hit show, art doesn't imitate life. Or it is life imitates art? Anyway, the actress and former model told Harpers and Queen magazine that the rich girl she plays is a drama queen: "She's the wildcard of the show. Marissa epitomizes all that is wrong with youth these days. She is purposely overwritten and sensationalized." Aw, lighten up, Mischa. You're starting to sound like you're middle aged, you wippersnapper.
Quote of the week:
"She and I fell in love like a couple of school kids. I'm glad to know that happens, that that exists."
-Kenny Chesney on his whirlwind marriage, and divorce, to Renee Zellweger.