NKU Women undefeated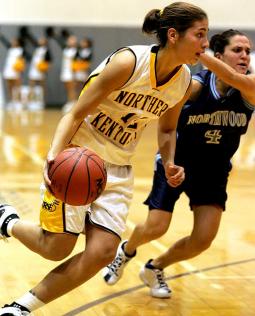 If the defense keeps up their level of play, then the NKU's Lady Norse will be right in the thick of things when March arrives.
NKU (2-0) held visting Northwood University (1-2) to just 32.3 percent shooting and forced 21 turnovers as they defeated the Timberwolves 81-55. For the second straight game, NKU's women's basketball team held its opponents to under 35 percent shooting.
"We preach defense in practice and that's where everything starts for our team," said NKU coach Nancy Winstel. "Without (defense) we're nothing."
NKU struggled to capitalize early until Junior Katie Butler stepped up. With limited minutes, Butler had a few key blocks and hit a few long three-pointers to get the Norse motivated in the first half. She finished with eight points.
"That kind of play equals playing time, Katie," Winstel said as Butler walked by.
Nicole Chiodi, sophomore point guard and Highland Heights native, led the Norse. Chiodi scored 10 points and had 10 rebounds in 28 minutes of play. She also added eight assists, finishing only two short of a triple-double.
"Nicole is motivated this year. She did some bench sitting last year and I don't think she liked that too much," Winstel remarked.
"Nicole really pumps us up," added guard Karyn Creager. "She really drives us and she uses the court really well."
Creager did some damage herself by knocking down six of eight shoots and going perfect on all three attempts from three-point territory. She finished with 17 points. Angela Healy was the second leading scorer with 14 points of her own, 12 of those coming in the first half.
When asked about the struggles his team encountered on defense, Northwood Head Coach Jeff Curtis admitted he thought his team was overmatched.
"On offense, NKU spreads the ball out so well. That's tough to defend", Curtis said. "We're not a huge team, but we're athletic. They were so effective because they kept kicking the ball out and kept finding people who were open."
On the Norse defense Curtis added, "They are really big underneath and that was tough for us because we are somewhat smaller than they are."
The Norse went a combined 31 for 52, a 56 percent ratio, shooting the ball. The Norse were also incredible from 3-point land, shooting 8 for 11.
Bench play was also a key factor in the game. Players from the sixth man down scored a total of 26 points, led by Butler.