NKU men push record to 3-0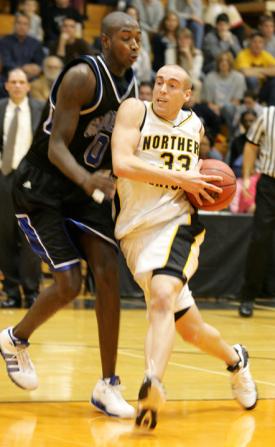 HIGHLAND HEIGHTS, Ky. – The NKU men's basketball team was victorious over Grand Valley State by a score of 73-63 on Nov. 23.
NKU built a 16-point halftime lead by limiting the Lakers to 28 percent shooting from the field and held off a late rally to improve to 3-0.
"If we had lost, it would have put a sour taste in our mouths and we would have went home and everyone would have been in a bad mood and not had a good Thanksgiving," Kevin Schappell said.
Schappell, a junior wing player and a graduate of Loveland High School, finished with 12 points, three steals and two assists off the bench.
He also made a pair of key 3-point shots in the second half as NKU won its third straight game against a school from the Great Lakes Intercollegiate Athletic Conference.
The GLIAC and the Great Lakes Valley Conference compete for bids in the NCAA Division II Great Lakes Region at the end of the regular season.
The winners of the GLIAC and GLVC Tournaments receive automatic berths in the NCAA Tournament, and six more teams get at-large berths.
That makes the 3-0 record against the GLIAC even more important for NKU, a member of the GLVC.
"It's a regional win, and they (Grand Valley State) are a pretty good team in our region, so they are going to knock some other teams off in their conference," Shappell said.
"I thought we played great defensively, and it's just something we need to keep building on."
NKU used a 15-2 run to end the first half and take a 38-22 lead at the break. Norse freshman guard Mike Kimmey drained a pair of 3-pointers to spark the Norse spurt.
Billy Finnell added five points during the run, including a jumper with one second remaining to end the half.
Finnell, who was named NKU's most outstanding player during the John L. Griffin/Lions Club Classic last week, finished with 16 points, four steals and three assists Wednesday night against Grand Valley State.
The NKU bench, led by Schappell and Finnell, outscored Grand Valley State by a 42-16 margin.
"Each time we went to the bench, they responded. They actually helped jump-start us a little bit and gave us some freshness and some new life," NKU head coach Dave Bezold said.
"If you can get that lead, then you can have a lull in the second half and have a cushion to work with. We were fortunate enough to have that cushion."
Kevin Reinhardt finished with 16 points and five rebounds for NKU. The Norse used 9-for-19 shooting from 3-point range to offset Grand Valley State's 36-27 edge in rebounding.
NKU also committed just nine turnovers, and that statistic made Bezold happy.
"That's a heck of a job," Bezold said of the nine turnovers. "We have really been focusing on and talking about (turnovers) since the first day of practice because we were careless with the basketball in October, and they have really made a conscious effort to take care of the basketball. It's something we have to do night in and night out to give ourselves a chance to win."
Bezold also praised Schappell's performance and versatility.
"It wasn't just his points. He does so much defensively, being in the right spots. He guards guys 6-foot-5, 6-foot-10, and he is always in the right spots," Bezold said.
"If we could get a few more people moving like he does, then we will be something. We'll turn into a much better team as the year goes on."
Going into the game, Eziukwu was averaging 13.5 points and 10.0 rebounds per game.
"This is team win because we all played well together," Reinhardt said. "We all enjoy playing together, and that helps us out a lot. We just have to keep it up."
NKU will begin GLVC play at 7:45 p.m. Dec. 1 against Rockhurst in Regents Hall. The Norse were picked second in the GLVC East in the preseason poll.