Moviegoers 'love' new Cash movie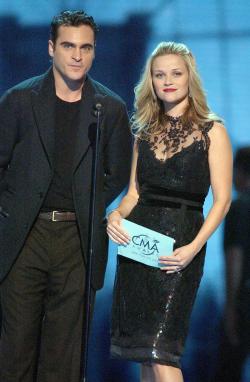 "Walk the Line," staring Joaquin Phoenix and Reese Witherspoon, is truly the movie of the year. Phoenix and Witherspoon both provide viewers with award-winning performances.
Phoenix becomes Johnny Cash as he and Witherspoon both lend their own vocals for the film. Making her singing debut, Witherspoon captures the spotlight as June Carter beautifully.
Ebert and Roeper give the film two thumbs up and say "Walk the Line" is "a definitive portrait of one of the most influential figures in modern American music."
Produced by Cathy Konrad and James Keach and directed by James Mangold, this story of a music legend is absolutely breathtaking. Whether you are a Cash fan or not, the film will capture your heart and inspire your soul.
The film begins in a depression era with Cash living on a southern cotton farm. The film follows him as he rises from a poor man in Memphis, Tenn., to a famous rock 'n' roll legend. The movie features songs such as "Walk the Line" and "A Boy Named Sue," as well as the infamous 1968 concert at Folsom Prison.
Along with his rise to fame, we also view the inside story on Cash's battle with drug addiction and his romance with Carter. The film is a perfect portrayal of Cash "facing down his demons, fighting for the love that would raise him up and learning how to walk a razor- thin line between destruction and redemption," according to the official Web site, walkthelinethemovie.com.
Based on "Man in Black" and "Cash the Autobiography," the film was written over the course of seven years. With help from Cash and his wife before their deaths in 2003, "Walk the Line" is not only a wonderful movie but a wonderful autobiography as well.
Moviegoers can't help but fall in love with Cash all over again. You will definitely leave the show laughing, crying and wanting to listen to more of the legendary Johnny Cash albums.