Inmate education on the rise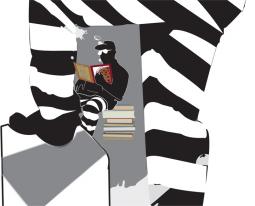 Staring at the ceiling and pacing around the room loses its appeal after the first year or so-there isn't much to do in jail. But thanks to a partnership between Northern Kentucky University's Steely Library and the Kenton County Detention Center, that may soon change.
The partnership is called "Library Link: Bettering Life In, Life Out" and is the result of a grant. Through the program, the goal is to increase literacy and education among the center's inmates.
NKU professors and even a few students pile books onto carts and wheel them through the center, and passing them out to inmates. "In the jail, it's difficult," said Steely Library faculty member Threasa Wesley. "They have nothing to do. They're overcrowded. Anything you can do-like reading-it's probably pretty appealing."
Wesley said there is an indirect correlation between literacy and recidivism (the same person coming back to jail). Part of the research done by the faculty shows that the more education an individual has, the less likely it is for the person to be arrested again.
The books are on a variety of subjects, but the most emphasis is placed on non-fiction books that are available-namely self-help books.
The books cover topics such as learning to deal with finances, how to write a resume, deal with stress and GED preparation. "Most people (in the detention center) have had a life situation they weren't prepared for," Wesley said. She also said personnel from the center have said they see fewer problems when the inmates are reading.
Colonel Rodney Ballard is the chief deputy of administration at the center. He's also an NKU graduate. Ballard believes that the self-help books are what the inmates need. "It can teach them how to write a resume or how to fill out an application," Ballard said. "It's stuff we take for granted. Most people had parents to help them with that."
Ballard said that he's excited about the program and is proud of the efforts of the center in providing the opportunities to the inmates that they have. "In the last two years, 109 people here got their GEDs," he said.
Ballard is also proud of NKU. "My university had the foresight to think outside the box. They taught me to think harder and do better-they're providing the same encouragement for inmates here," he said. "We couldn't have gotten to first base without NKU."
Ballard hopes for the success of the program, but said that, "If we go to all this effort and it benefits only one person, it will be a success."
"If it's only one person who can now read a help wanted sign, it's still one less person in an unemployment line and one less person in need of public aid."
NKU President James Votruba agrees. "This is another terrific example of NKU continuing to contribute to the well being of the region," he said. Votruba said that 10 years ago a project like this would have been front and center because the amount of projects that the university was involved in was limited. "There's been a tremendous increase in projects," he said. "Regional stewardship has become a priority." And that's the way he wants it. "Education is all about helping people move in whatever direction they choose," he said. "Education today is a modern-day freedom train. It gives greater freedom to live life on your own terms."
Jennifer Pealer, assistant professor in the criminal justice department, believes that this program has the potential to make some big changes. "It could have a great impact for the entire state," she said. Pealer was referring to the other jails and prisons in Kentucky. The Kenton County Detention Center has agreed to help other prisons and jails implement this program should it prove to be a success, which Pealer said, depends. "It's all going to depend on whether or not the inmates buy into this," she said.
Pealer, along with other NKU faculty who are working on this project, receive a lighter course load for the semester in order to give them more time for research. "Myself and Dr. Moon are evaluators of the jail," Pealer said. "We use surveys to see how the library affects the jail environment." Those surveys are passed out to both center personnel and the inmates, but Pealer has a separate survey that is given only to inmates. The second survey checks the inmate reading level, self-esteem, depression and perception of the jail.
According to the research done by the faculty, "approximately 39 percent of all inmates did not have a diploma or GED upon intake into the center…almost 10 percent of the population had less than an eighth-grade education." Hopes are high for a positive impact, but as Ballard said, "The jury is still out."