Diviners to open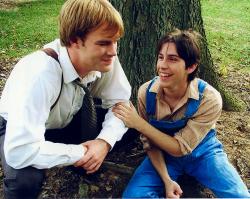 Northern Kentucky University's Department of Theater and Dance will end the fall semester with a drama about the value of faith and friendship when it presents "The Diviners" Dec. 1 through 11.
Jim Leonard Jr. wrote the show and Lisa Bodollo, theater chair at Mother of Mercy High School in Cincinnati, guest directed it. The story takes place in the 1930s in the fictional, drought-ridden and Depression-era town of Zion, Ind. It focuses on a mentally handicapped teenager named Buddy (Adam Bass) who has the power of "divining," or finding water.
Ironically, Buddy's mother died while saving him from drowning as a young child. The experience leaves the boy deathly afraid of the water. When a drifting and disillusioned preacher C.C. Showers (Jeffrey K. Miller) comes to town and befriends Buddy, the two discover the lessons of love and friendship.
"'The Diviners' summons us to challenge our own views of life and death, our frailties and human inadequacies," Bodollo said in a statement. "We all search for our own Zion, the Promised Land, but are we taking the appropriate path?"
"The Diviners" will be performed in the Corbett Theater. Performances will begin at 8 p.m. Tuesday through Saturday and at 3 p.m. Sunday. Tickets are $6 for students.