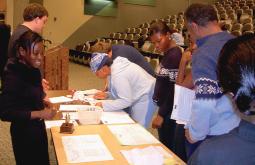 In Eva G. Farris Auditorium, the message on World AIDS Day was education.
"There are three keys to stopping AIDS: education, education, education," said Kimberly Luse, executive assistant to the president and secretary to the Board of Regents.
The Association of African Charities hosted the event, featuring speakers Luse and Cheryl Hutchins from AIDS Volunteers of Cincinnati.
It kicked off with a story by Luse. She told of her favorite cousin as a child. Her cousin ran away and wasn't seen for years. When he returned, he had AIDS and eventually lost his life.
Had awareness been higher during those "simpler times," Luse's cousin may not have run away, and he could have had support from family and this tragedy may have been avoided, Luse said.
Luse was saddened, but still has hope for the future.
"I believe we will see a cure for (AIDS) in my lifetime," Luse said.
She said that universities are the best forums for AIDS awareness because it's an environment of education.
Luse was followed by Hutchins. She spoke of the theme, "Stop AIDS: Keep the Promise," and how it will be worked toward for years.
Hutchins spent her time giving facts.
Hutchins said HIV is a virus like other viruses, such as the flu. It can't be treated the same way. It is usually left to run its course. People can be immunized from the flu by getting the flu shot which is a weak strain of the virus.
HIV can't be left to run its course as it will weaken the immune system, which makes the person vulnerable to diseases and eventual causes death. When HIV runs its course it becomes AIDS , Hutchins said.
"The only way to get immunized against AIDS is to get informed, get educated and get tested," Hutchins said.
The rest of her speech was devoted to spreading the seriousness of AIDS.
Hutchins said according to UNAIDS estimates, 35.7 million adults and 2.1 million children had HIV at the end of 2003, and 4.8 million people were infected. Around half of people who become infected with HIV do so before 25 and die by 35.