'This City Is' tries to break out of Cincinnati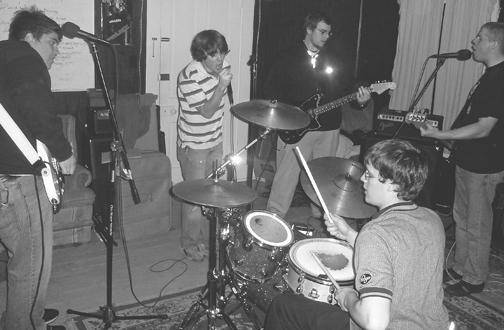 In the second story loft of a shotgun house in Newport, a chandelier of modest proportions swings delicately back and forth. Its light shines down on five young gentleman who can only describe themselves as, "the most unprofessional band you will ever talk to," an interesting joke coming from a group of young artists that has fast tracked itself to the top of Cincinnati's growing local music scene.
This City Is features four Northern Kentucky University students including vocalist Jason Dill, an education major; guitarist/vocalist Benjamin Rogers, a painting major; bassist/vocalist Lucas Cooper, a criminal justice major; drummer Dustin Herald, an education major; and guitarist/vocalist Aaron May, who is studying graphic design at nearby Gateway Community and Technical College. They have shown what talent, determination and less than six months can do for a local act.
Arising from the ashes of various former bands, the boys in This City Is have done more in those six months than many of their contemporaries do in a career.
The band finalized their line up in July of 2005 with the addition of Herald on drums. "We were familiar with each other but it didn't feel like a band at first," May said. The awkwardness quickly subsided however, allowing the band to record and release a three-song EP before the end of summer.
The music of This City Is straddles a number of genres, ranging from emo with integrity to screamo with a smile to metal with a muzzle. "If (people) don't like us afterwards, oh well," Cooper said, expressing a sense of inevitability consistent with someone who has been through the meat grinder that is the Cincinnati music scene.
The desire to spread themselves away from the suffocating Cincinnati scene has already taken the boys as far as Michigan, with plans to explore the southern states through the winter. "If we play in Cincinnati we get ignored," said soft-spoken front man Dill, "but when we're on the road we're 'the out of town band', it gets people interested."
Cincinnati is notorious for being a city where good bands go to die, but with the breakthrough of mid-western talent like Hawthorne Heights, from Dayton, Ohio, and Story of the Year from St. Louis, the time is ripe for Cincinnati to offer a child up to the major label deities.
"The scene in Cincinnati is still young," Dill said. He and the rest of This City Is is optimistic that the area can become a place to look for up-and-coming acts.
"It's a shame that a lot of bands like ourselves appeal to a younger crowd, and there's a lack of all ages shows," Cooper said, with a hint of despair that many local bands share. With only a limited number of venues allowing those not old enough for the bar scene to attend shows, opportunities for bands are limited.
The band is focused on one thing at the moment, "Getting us out there is the goal now," May said. With plans to be on the road this winter the band is poised to do just that.