Xavier defeats NKU 78-44
Hang on for a minute...we're trying to find some more stories you might like.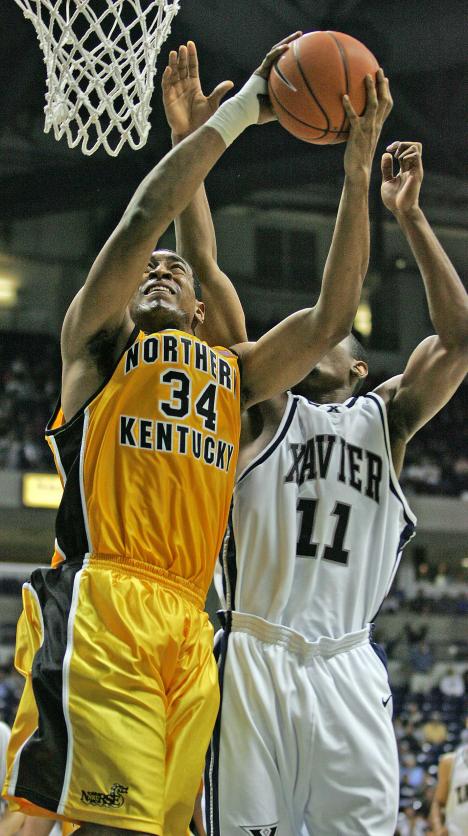 Brian Thornton scored 22 points and Stanley Burrell chipped in 13 points as the Xavier Musketeers out muscled the Norse in an exhibition game at the Cintas Center 78-44. Xavier used the power of X to exterminate, exhaust, and expel the Norse until time expired.
The Musketeers used inside domination against the Norse to take control early and never look back. Xavier outscored NKU 44-14 in the paint.
Xavier for the most part took high percentage shots shooting 57 percent from the field. The Norse tried to get the perimeter game working but only managed to shoot 16 percent from three-point range. Xavier used good shooting and tough physical defense to take a 42-17 halftime lead.
NKU opened the second half on a positive note with a three pointer, but could not mount a comeback. NKU played much tougher in the second half losing the half 36-27.
The combination of Thornton, Burrell, and B.J. Raymond were too much for the Norse as they combined for 45 points, one better than NKU as a team.
Xavier also out rebounded the Norse 43-30. Xavier gave the crowd of 6759 two dunks, one by Derrick Brown and one by Justin Doellman.
The Musketeers played without starting point guard Dedrick Finn, sitting out due to a one game suspension. Backup point guard Johnny Wolf did a good job running the offense and staying in control despite frequent pressure by NKU's defense.
The Norse were led by Kevin Reinhardt, NKU forward, who just missed a double double by scoring 13 points and grabbing nine rebounds. Aaron Smith contributed nine points and Kevin Schappell added eight points for the Norse in the losing effort.
The Musketeers are a deep team returning all five starters and their two top reserves.
Dave Bezold, NKU head coach said, "We will not see a team that good that deep, but we will see some teams with that kind of athleticism in Division II this year." Xavier used its depth to its advantage outscoring the Norse 30-12 off the bench.
NKU will take some things from this game. Playing tough competition will only improve the Norse as they prepare for the regular season.
Xavier is an elite member of the Atlantic 10 conference winning the conference five times (1997, 1998, 2002, 2003, 2004).
"We are going to improve from this. We just needed to get our new guys to get some butterflies out. We only have one guy on our team with significant college minutes and that is Kevin Reinhardt" Bezold said.
"We want to be a quality basketball team and quality has no division, we are going to have to grow and it will take some time, but we will get there."
Xavier, with the victory, breaks the two game winning streak the Norse previously had against the Musketeers. Xavier leads the overall series 4-2. The two teams had not met since 1979. The loss drops NKU to 0-7 against division I opponents since 2001.
Up next for NKU is the University of Cincinnati Bearcats in another exhibition game at Fifth Third Arena.
Tickets are still available for this game with the Bearcats. The game is scheduled for a 7:00 tip-off Saturday November 12th.
The Norse open the regular season at Regents Hall November 18th against the University of Findlay, ranked sixth nationally in Division II.