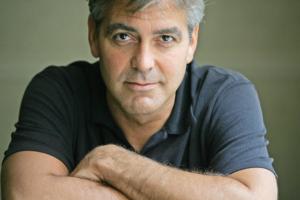 After filming "Good Night and Good Luck," actor/director George Clooney is now an expert in the field of journalism. Clooney, once a journalism student at Northern Kentucky University, lectured at Columbia's Graduate School of Journalism Oct. 14, People Magazine reports, giving out advice to today's journalists. For journalism newbies, Clooney advised, "Grow up and stick your neck out and get it burned every once in a while. That's how you get things done." That's easy for you to say, George. Have you ever been sued for libel?
Pop singer Ashlee Simpson is all about self promotion. Star Magazine reports that the 21-year-old is determined to make her new single "Boyfriend" number one on MTV's TRL. She accomplishes this spectacular feat by writing on her Web site, ashleesimposonmusic.com, "Vote now through phones and online. Make 'Boyfriend' #1!" Fans who vote the most can win prizes such as iPods, Xboxes and a phone call from Simpson. Guess The Northerner's phone lines will be tied up for a few days. Sorry, guys.
Sharon Osbourne, wife of rocker Ozzy Osbourne, is tired of pop maven Madonna playing with different styles, and now we all get to hear about it. As posted on femalefirst.co.uk.com, Sharon Osbourne fumes, "It's like dressing up with her. One day you're in f***ing gun gear, then you're in horsing gear, then you dress like a f***ing dyke, then you dress like a hooker, then you're in a flowery dress reading kids' poetry looking like you're a f***ing librarian-then you're back looking like an old hooker again." Don't worry about the outspoken Sharon Osbourne hurting Madonna's feelings, folks. She's been called a hooker before. Besides, Sharon Osbourne is doing us all a favor. A flowery dress, Madonna? You should be ashamed.
Howard Stern's been kicked off the air – again! According to msn.com, Stern got a one-day suspension Nov. 7 after shamelessly promoting his upcoming move to satellite radio set to occur in January. Karen Mateo, a spokeswoman for Infinity Broadcasting, wouldn't call Stern's absence a suspension, however, Stern's spokesman Matt Traub called it a paid suspension. "This is an act of desperation by men who are losing their once-in-a-lifetime franchise," Traub said. Stern's not too worried about it though-he'll be making $500 million when he moves to Sirius, compared to his paltry $100 million he's making at Infinity, proving that money talks – dirty.