Students, Web site win award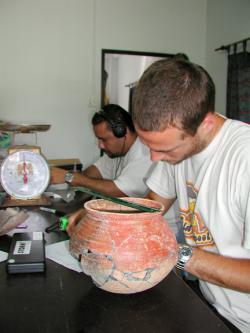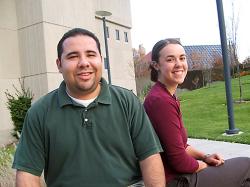 Northern Kentucky University has had many accolades. The university has had excellent sports teams, won many awards and seen many great moments and events. However, NKU recently added some more accomplishments to its long list.
Two anthropology majors, Rachel Sebastian and Jardana Peacock, were among those to bring the honors home for NKU. The two young women won awards for papers that they had written recently for Anthropology 339/340: Ethnographic Methods. In the class, students are called to do original field research in an area of their choosing. In the past, students have performed research on firehouses, churches, schools and even a nudist colony.
The Anthropologists and Sociologists of Kentucky, or ASK, which began in 1962, presented the honors to Sebastian and Peacock. Mary Carol Hopkins, PhD, a professor of anthropology, was quick to sing the praises of her students' efforts. "Rachel and Jardana are both model students," she said, "and their papers are an example of what NKU students can do. They really got involved in the places and people they were researching. They really put their hearts and minds and yes, lots of time, into their work."
Sebastian focused her time on a women's shelter. In performing her research for the paper, she found that most of these women, contrary to common perception, did not come from troubled backgrounds. Rather, she found that they were simply in a situation where they weren't making enough money to afford decent lodgings and daycare for their children. Sebastian's paper was entitled "Women and Children in a Midwest Homeless Shelter" and won her first place in the ASK competition.
Peacock, meanwhile, chose to focus her time on a youth center that she found was a failure. Afterwards, she did research at another youth center out of state that she found much more appealing. She also found that it was much more successful. She titled her paper "Youth Culture at the Ferring Community Center" and earned third place in the competition.
Peacock said in an e-mail, "I wanted to enter the contest because I've never really done anything like that, and it was a wonderful opportunity to revisit research that I felt was unfinished. I still feel it is unfinished but it's on its way to a more complete paper than prior to the competition." Peacock said that when she heard her name called that she had won, she was very happy since she had felt there was much she still needed to do to the paper. Peacock is currently focusing on a project for her senior honors thesis that revolves around her research on the youth center.
Also at the ASK meeting, the Student Faculty Thai Research Group won the Dorothy E. O. Neff Media Award. The award is named after the former director of the Sociology and Anthropology departments at Transylvania University. The group of students, Mandy Turner, Emily Powers Dean, Rogelio Rivera and Shawn Fehrenbach, built the Web site to detail their grant. The grant the group used, the ASIANetwork Freeman Foundation Student Faculty Summer Fellowship, allowed for archeological and ethnarchaeological in northeast Thailand and neighboring Cambodia to be done last summer. Fehrenbach was eager to share his thoughts on the Web site that won the award. "The Web," he said, "is a powerful instrument for the dissemination of knowledge, and this Web site allowed us to present our research as it was happening." He also said, "This sort of publication gives a unique and intimate perspective into scientific research." Fehrenbach said, "It is nice to get recognition for a job well done, but more importantly, I hope that the award draws attention to this method of research presentation. It could be valuable to other scientists in many fields, not only for presenting research methods and preliminary findings, but also for providing a human perspective on their projects."