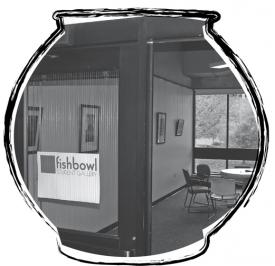 When students walked into the art department's fourth floor lounge one month ago, they may have felt lost. The lounge that once held lockers, dilapidated furniture and an unused chalkboard now holds nothing.
Well, not exactly nothing. All of the furniture and lockers were hauled out of the lounge as part of its makeover into Northern Kentucky University's first student gallery. The walls were repaired and painted white, a hanging system for artwork was installed and new furnishings were provided. Where a lackluster lounge once was, now exists a new exhibition space for student artists.
The art students and staff have always referred to the art department's fourth floor lounge as 'the fishbowl.' The lounge's small size and large glass windows and doors made some students feel as if they were in a fishbowl, from this feeling the name formed. When a Gallery Committee, comprised of members of the Next Generation of Artists, decided to transform the lounge into a student gallery, they decided that the space could still be used as a lounge to relax and work in. In an effort to combine the functions of lounge and student gallery, the Gallery Committee wanted to include the word 'fishbowl' in the new gallery's name.
The new Fishbowl Student Gallery serves as the only student-run venue for the display of artwork at NKU.
While NKU has a gallery on the third floor of the art building, it is reserved for visiting artists and traveling exhibits rather than to display student artwork (with the exception of a few weeks at the end of each semester). According to Thom McGovern, chair of the art department, most universities comparable in size to NKU have a student gallery.
Benjamin Rogers, co-chair of the NGA Gallery Committee, said, "the Fishbowl Gallery exists not just to display student artwork, but to legitimize it."
All of the work exhibited has to be selected by the Gallery Committee before it can be displayed.
Besides being a venue for student work, NGA hopes that the Fishbowl Student Gallery will also serve as a teaching tool. Members of the NGA will gain valuable curatorial skills and exhibiting artists learn how to submit work to shows and hang their work on the walls.
The new gallery also promotes dialogue among students.
For instance, comments left by non-photography majors about the current photography show explain how useful it is to see what other student artists have been creating.
NGA has helped to create the new Fishbowl Student Gallery as a resource for the faculty and students at NKU.
Leah Goshorn, senior art major, said "The Fishbowl Gallery is exciting because it was conceived by students, implemented by students and they have control over the space."