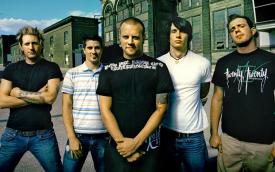 Story of the Year is back in action with the October release of its sophomore album, "In the Wake of Determination."
The follow-up attempt to 2003's "Page Avenue" finds the St. Louis-based screamo outfit doing its best to shed the labels it has picked up over the last two years.
Unfortunately for the quintet, which was taken under the wing of legendary producer John Feldman who is responsible for exposing young talent like The Used and My Chemical Romance, Story of the Year has opted to trade in the soaring chorus hooks and airtight rhythm section for double time drum beats and strained vocal chords.
The replacement of Feldman is apparent on "In the Wake" and fans of Story of the Year's first album will miss him.
On the album's first single, lead vocalist Dan Marsala confesses that "the shadows of our past are hard to ignore" right before launching into a chorus proclaiming that "we don't care anymore" –