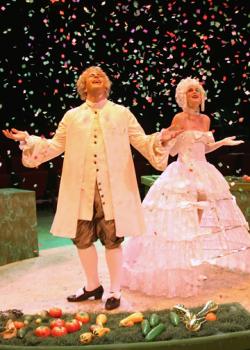 Why should a fairy-tale princess have to sit around the castle waiting for her love to sweep her off her feet with a kiss?
Northern Kentucky University's production of "Triumph of Love" is a musical comedy that hilariously pits emotions and passion against reason and philosophy. The play shows a princess who toys with emotions and gets in touch with her masculine side in order to woo her shy, bookworm-ish prince.
Director Brian Robertson steers this musical mayhem with the help of a strong but small cast in NKU's intimate Black Box Theatre.
Denise Devlin plays the dominating Princess Leonide, ruler of Sparta, who takes a day off from her royal duties to conquer the heart of Prince Agis (Brian Bailey), a reclusive book worm who has been raised by his philosopher aunt and uncle. The garden is forbidden to women, so Leonide and her cheeky maid, Corine (J. Kaitlin Becker), pose as young intellectuals yearning for knowledge in order to get in. While disguised, Leonide finds out that Agis is actually the rightful king of Sparta, dethroned at birth, and that he's staging a coup to kill her.
Devlin shines in the role of Leonide. Passionate and aggressive, she energizes the almost bare stage. Confidently singing her way into the audience's affections, we forgive her manipulative schemes because she's so willing to do "anything for love." Countering Devlin's lusty princess, Bailey's Agis is convincing as a nerd but lacks the romance of a charming prince. While both were interesting apart, as a couple they lacked chemistry and their love seemed forced and one-sided as the show progressed.
The strong supporting cast kept the focus off the mismatched leads and proved the most entertaining part of the show. Becker, David Rowland as the Harlequin and Cary Davenport as Dimas the Gardner were a side-spliting threesome who bounced, shimmied and flirted their way around the stage as they helped Leonide win over the love of Agis.
Catherine Schmeal's whimsical and over-the-top costume designs provided the perfect wardrobe for the action-packed and slapstick comedy and set designer Ronald A. Shaw kept the garden setting simple and serene while still providing plenty of objects to fall and jump over.
Offbeat and surprising, NKU's production of the "Triumph of Love" is modernized fairy-tale tomfoolery that preaches the lesson that loves lies somewhere between the coldness of reason and the inferno of passion.