In the hot seat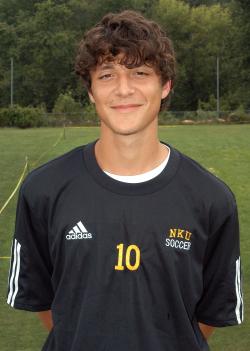 In this week's Hot Seat, Tim Downer interviews Tony Capurro. Tony is a sophomore midfielder on the NKU men's soccer team.
Tim Downer: Tony you haven's scored any goals since the Bellarmine game on Oct. 2 and your shot % has gone down from .750 to .333 the last month what's up with this?
Tony Capurro: Well unfortunately we've had a few injuries in our back line and in the midfield, so I've been moved around a lot to positions I'm not as familiar with.
TD: Last year you broke your wrist(?) and played in a cast do you feel you are 100% this year? Did you ever use your cast to your advantage in a game?
TC: Last year when I was in a cast, we had to pad it up so I couldn't hurt anyone.
TD: If you could play any position on the field what would you play?
TC: Well my ideal position for the rest of this season would be in the midfield with Kyle, but I really enjoy playing striker. I think I need to work on a few things in the off season in order to be an effective striker next year.
TD: What team in the GLVC has the best playing field and how do you rate the field at Town ' Country?
TC: I really like our home field. I'm so used to playing on this surface that I hate playing anywhere else. Its such a fast surface that teams have trouble adjusting to it when they come in, and they usually spend the whole game complaining about it, which works to our advantage.
TD: Do you have a certain type of shot you consistently score a goal with? TC: No, I usually am not a great goal scorer.
TD: What kind of weather does the team play best in?
TC: I think at home, we play some nice games around 3 pm because it gets so hot and other teams aren't used to the high temperatures our field reaches
TD: What do you think of Coach Basalyga?
TC: I think coach Bas is a great coach. I had heard a lot of horror stories about his coaching style from high school, but I haven't seen a problem with it. I think his style is perfect for college soccer.
TD: What is it going to take for the soccer program to become a consistent powerhouse?
TC: I think it will be within the next couple of years.
TD: What are you going to do after your soccer career is over at NKU? Do you want to play at the next level?
TC: I would love to play at the next level. Soccer is the only thing I can play/watch all day long without getting sick of it.
TD: What soccer player did you grow up wanting to be and why?
TC: I have always looked up to the Brazilian striker Ronaldo. Besides Thierry Henry, he stands alone as the best striker in the world.
TD: Physically, how do you get in shape for a NKU soccer season?
TC: I was injured most of the summer with a sprained ankle, so I couldn't do what I normally do. I usually like to do some kind of exercise at least once a day.
Photo by Tim Downer