Football with style and game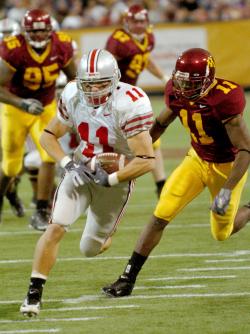 Ohio State split end Santonio Holmes showed up at Jim Tressel's weekly news conference in such fancy duds that the normally focused coach lost his train of thought.
Trying to slip into the back row, the junior showed as much flash as he displays on the field. He sported a canary-yellow plaid vest and pants, shiny lime-green shirt and tie, and gold satin shoes.
"I was almost blinded there," Tressel said. "Santonio, stand up so they know why I've stuttered."
Holmes had good reason to be stylin'. He caught two touchdown passes in last weekend's 45-31 victory at Minnesota, giving him a team-high seven for the season. He also received the team's Jack Tatum hit of the week award for a crackback block that sprung tailback Antonio Pittman for a 15-yard gain on a Statue of Liberty play.
"Santonio is assigned to crack and he cracked very legal, very hard, and very fitting for the Jack Tatum hit of the week," Tressel said.
Feared safety Tatum was the 1969 national defensive player of the year while at Ohio State and a first-round draft pick of the Oakland Raiders in 1971.
Holmes said receivers were considered for the award for the first time this week after they lobbied position coach Darrell Hazell to be eligible.
Holmes might not want to play the same position as Tatum, but he wants to play in the same league. To do that, he knows he must be a complete receiver who can block, even if he is 5-foot-11 and 190 pounds.
"Coach (Tressel) noticed that those are the things I prided myself on," Holmes said. "When I was in high school, my coach talked to me a lot. He said, `You do a great job of blocking, which nobody really pays attention to. That's what makes great receivers.' I just try to carry it on.
Holmes, 21, has two young sons to support and is likely headed for the NFL after this season. The suit he wore Tuesday, which he said his uncle bought for him, could be his draft-day attire.
Before this season, Holmes called this his "money year." But with No. 12 OSU 6-2 going into Saturday's home game against 2-6 Illinois, Holmes isn't ready to say whether his college career is nearly over.
"There's a possibility for both," he said of coming out early or staying for his senior season.
His return ability – he's averaged 15.1 yards this season on seven punts – could also enhance his draft status.
"Being able to play a lot of positions is always a plus," Holmes said. "Look at some of the guys around the country in college football who are able to play punt returner, wide receiver, running back, quarterback. A lot of those guys get drafted high in the NFL. I'll try to stick with it and hopefully the (scouts) will look at it."