NKU senior 'controls' the USS Nightmare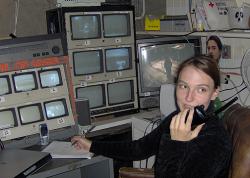 Rich Shivener
During the month of October, Candi Oakley dresses in all black Wednesday through Sunday.
She's not practicing any religion or mourning for a loved one – she's working at the USS Nightmare, located on Newport Riverfront.
Oakley involved herself with the haunted boat after dating one of the actors.
In her four years of employment, this Northern Kentucky University senior has taken on the role of virtually every character. And yes, she has played the infamous Rat Lady.
Unlike a performing arts theater, the actors and actresses don't run through intense rehearsals.
"(The directors) go through and give you tactics to use," she said. "Your main goal is to usually startle people; if you can't do that, you try and make them laugh or try to scare them."
This year, Oakley opted for a solo position in the control room.
"In the control room, you sit and watch the (15) monitors … and you just keep an eye on them, making sure the actors are doing what they are doing and making sure the customers aren't harming the actors," she said.
"One of our first nights open I had three emergencies buttons going off," she recalled. "I had to turn on the house lights to find a lost child, plus I had to call an ambulance from a prior emergency."
Besides the occasional drama, Oakley said her job is actually pretty easygoing.
"They have an air blaster in one of the hallways that I can control to scare people," she said with a smile. "If the actors know that there is a camera by them, they'll often times makes faces at me and dance in front of it."
And though she's gained tons of experience, she said, her co-workers are more than acquaintances.
"It's fun. (During) the six weeks, it's like a big family reunion," Oakley said. "(The cast) get together and (go out)… It's just so much fun.
"Probably the most positive thing that I've gained out of it are the life-long friends. There are people that I've met, and I talk to them year-round now."