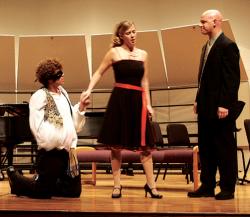 Breanna Gaddie
As the media coverage of the hurricane-ravaged Gulf Coast begins to dwindle, the efforts to help those affected by the hurricanes are unrelenting.
Northern Kentucky University hosted the Northern Kentucky Gulf Coast Benefit Oct. 23.
The benefit served as an opportunity to support relief efforts for Hurricanes Katrina and Rita that crippled the Gulf Coast last month.
"At NKU, part of our job is to figure out ways to bring people together, whether it's with fund-raising or issues that need to be debated in the public forum," said Kent Kelso, NKU Dean of Students.
The benefit featured games and food nearly the entire afternoon, and took in donations of blankets, toys, water, cash, and non-perishable food items.
By the end of the day, over $100,000 was raised, Kelso said.
The donations will be split between the hurricane relief funds of the American Red Cross and the United Way.
The highlight of the event was a free concert held in Greaves Hall. Former WLWT television anchor Norma Rashid served as emcee to the concert that featured performances by the Northern Kentucky Children's Ensemble's concert and prep choirs, Covington Catholic High School's chamber choir, Metropolitan Opera singer Richard Cowan, and others.
Concertgoers in the packed auditorium were also treated to a special performance from Ashley and Mike Lemmler, jazz artists from New Orleans that were evacuees of Hurricane Katrina. Pianist Mike Lemmler received his music education from Loyola University in New Orleans and the University of New Orleans. He leads the 11-piece band Jubilation, which has participated in some of Louisiana's prominent social events for over 30 years, and he has also performed with many prominent artists in the New Orleans jazz scene.
The concert's grand finale was all of the afternoon's artists performing, under the direction of NKU's Dr. Randy Pennington, a jazzy arrangement of "My Old Kentucky Home," that according to Rashid had "even Steven Foster tappin' his toes."
The benefit was the culmination of a 21 county effort, including Kenton, Boone and Campbell counties who passed resolutions to support the benefit. That support made the event possible, Kelso said.
Getting the benefit together was personal for Kelso. Kelso's wife's family lives in Beaumont, Texas, a city near the Gulf Coast damaged by Hurricane Rita, Kelso said.
"There have been a lot of storms, a lot of earthquakes and other natural disasters. For me personally, what helps is not raising money or entertaining. For me personally, it's prayer that helps," Kelso said to a cheering crowd.
His father-in-law is the Jefferson County, Texas judge executive who is helping oversee relief efforts.
"They are struggling with some government programs, like FEMA. Things are just not working out well. These people are still facing major devastation," Kelso said.
The benefit began as an NKU event, but eventually included multiple sponsors. Kelso, an Independence City Council member, attended a meeting where a citizens' group was trying to organize a large Northern Kentucky relief event.
"I told them NKU was doing a benefit concert on Oct. 23, so why don't you have your event coincide with the NKU event," Kelso said.
This led to the combination of the relief event and concert at NKU with multiple sponsors including the Northern Kentucky Children's Ensemble, the NKU Music Preparatory Department, the "One For All, United We Care" Northern Kentucky Relief Effort, the Northern Kentucky Counties and Cities organization and NKU.