Women's soccer sweep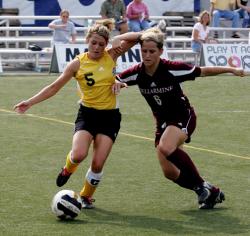 In NKU women's soccer action on Oct 7, the team defeated Missouri-St. Louis by a score of 3-1. The Norse were lead in scoring by Jenna Goettelman and Catie Walton who each scored a goal in the first half. The win over Missouri-St. Louis was the 13th straight time that the Norse has defeated the Riverwomen.
Kristen Votapek added a goal in the second half for the Norse to complete the scoring tally. In the game, the Norse improved their record to 10-2 overall and 7-1 in the Great Lakes Valley Conference.
In the current NCAA Division II women's soccer poll, the NKU women's soccer team is ranked 18th in the nation.
Meghan Tragesser scored Missouri-St. Louis' lone goal at the 69:30 mark. Walton and Goettelman also collected assists in the game for the women's soccer team. The Riverwomen have not defeated NKU since the 1997 season.
On October 9th, the NKU women's soccer team beat Missouri-Rolla 5-0. Kristen Votapek led the team in scoring with a goal and two assists in the game. Alex Armstrong and Catie Walton each had a goal and an assist in the game. With the win, the women's soccer team improved their record 11-2 overall and 8-1 in the GLVC conference. Lauren Franzen and Amy Law rounded out the scoring attack for the team.
After Votapek scored a goal just minutes into the game, Missouri-Rolla held the team scoreless for the rest of the first period. With the loss, Missouri-Rolla's record dropped to 3-8-2 overall, 1-7-2 in the GLVC. NKU completed the game with a 26-10 advantage in shots on goal.
Norse goalies Sam Westerling and Kelly Bare combined for the shutout and the five saves.
Next up for the Norse is a key GLVC conference game against Southern Illinois-Edwardsville on Friday October 14th at the Town and Country Sports Complex in Wilder. SIUE is currently 12-3 overall, 8-1 in the GLVC. They are currently ranked second in the conference while NKU is ranked first.
* Sports Information contributed to this article.