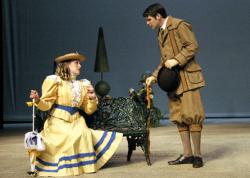 The Northern Kentucky University Department of Theater is off to a "Wilde" start this season with their production of "The Importance of Being Earnest." Director Mike King skillfully presents Victorian-era British humor with this fresh and updated look at Oscar Wilde's comedy about the mistaken identities of two dandified English gents who try to find true love under false pretenses.
King turned up the adrenaline on this parlor-side comedy as he pumped physical action and innuendo into every stage movement. Not satisfied with merely leaving the audience to relish in Wilde's time-tested script, King added to the fun with vaudevillian hijinks and chases.
A superb cast added to the success of the show. Roderick Justice as sly playboy Algy Moncrieff presented an irresponsible yet still lovable cad who falls in love with an young, blooming and overly enthusiastic Cecily Cardew (Sarah Peak), while friend Jack Worthing (John West), a somewhat more proper Englishman Algy's cousin Gwendolyn (Annalyse McCoy).
Theater department faculty member Mary Jo Beresford stole the show with her interpretation of Lady Bracknell, Gwendolyn's scheming mother.
She dominated the stage as a tyrannical matriarch obsessed to the point of hilarity with good manners, breeding and social status. Her thunderous voice whipped around the stage from her position atop a creaking wheelchair adeptly commandeered by silent footman Charlie Roetting, who together with Beresford, made up a dream team of "funny." His facial expressions mirrored Beresford's tart dialogue as he wheeled her around predicting Beresford's next line with Miss Cleo-like accuracy.
The one drawback to the production was the introduction of a Wilde character (Jeremy Sartin) who comes back to life between scenes to comment on his own literary greatness, the low nature of actors and his obsession with his beautiful multicolored pants. King's "Wilde" must have forgotten that in his native England, "pants" are underwear. No doubt Wilde meant to say "trousers," but such is the danger of creating dialogue and adding a character to one of the best-known plays in the English language.
Despite the dubious decision to throw in the playwright as an additional character, NKU's production was a refreshingly updated and original look at a well-loved classic.