NKU sponsors food drive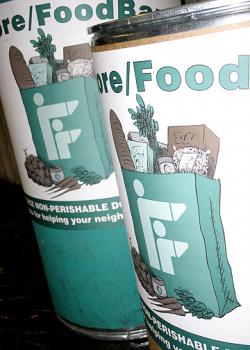 Northern Kentucky University students have the opportunity to join acclaimed humanitarian, Holocaust survivor and author of this year's Book Connection selection "All But My Life" Gerda Weissmann Klein in her life-long fight against hunger by donating to a canned food drive that runs through Oct. 24.
In a collaboration between the Freestore Foodbank, NKU's Presidential Ambassadors and the First Year Programs, the food drive will help replenish the Foodbank's stock after much of it was sent to Hurricane Katrina victims.
Barrels are set up to collect the donations in most campus buildings on the plaza levels. Klein is scheduled to speak in Greaves Concert Hall on Oct. 19.
Much of Klein's life has been dedicated to fighting the hunger that she experienced while she was a prisoner in a Polish forced labor camp during World War II.
Klein feels sixty years after her release from the concentration camp the battle against hunger is still raging even here in the Cincinnati and Northern Kentucky area.
"People need to understand that the hunger problem is here in our area," said Heather Burns, a public relations and speech communications senior who is coordinating the food drive as part of her internship with the Freestore Foodbank. "Right now 47 percent of homes with children are considered 'food insecure.'
The Foodbank feeds over 200,000 people a year. It could be your own neighbors."
Burns is hoping students will give generously to the food drive.
"We're suggesting people donate whatever they can so that (Klein) can see barrels full of food when she gets here and knows that people take her story and her cause to heart," she said.
Klein and her late husband Kurt Klein started the Gerda and Kurt Klein Foundation in 1998 to encourage young people to actively promote tolerance and respect through community service that focuses on ending hunger.
Peg Adams, assistant director of First Year Programs, sees a connection between the themes of Klein's book "All But My Life" and Klein's struggle to end hunger.
"Gerda's book is full of hope and the good in humankind," Adams said.
The Freestore Foodbank is looking for donations of non-perishable items, canned goods and personal hygiene products which will be distributed to over 500 non-profit agencies in the Tri-state area.