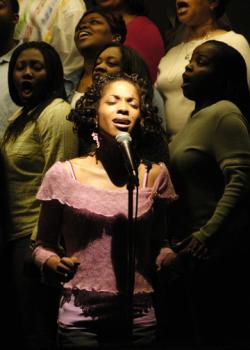 Need to be uplifted?
"The Gospel" is a new movie that allows the audience to go to church and see what some people perceive as the sweet victory of Jesus.
David Taylor (Boris Kodjoe) had dreams of one day becoming a minister like his father, Bishop Fred Taylor (Clifton Powell). When Taylor's mother passes away, he turns his back on his father and his church. Taylor grows up to be an R'B sensation, but returns home and decides to help bring people back to the church. He tries to bring them back by giving a free gospel concert. When he returns to his church, Taylor becomes attracted to Rain Walker (Tamara Gray), a member of his father's choir.
When Taylor's father passes away, Taylor's former best friend Charles (Idris Elba) is announced as the new bishop. The new bishop becomes power hungry and forgets about the traditions of the congregation. It's at this time that Taylor decides it's up to him to save his father's church, and himself.
This movie is worth seeing. The message behind the story is a powerful one. The music makes the audience feel like they are sitting in a church, instead of a movie theater.