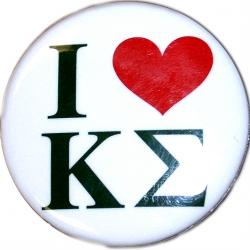 Though Kappa Sigma is technically a student organization, this aspiring fraternity is making a name for itself through determination, rising interest by students as well as chalking the campus with its Greek letters to let Northern Kentucky University know who they are.
This drive to begin the fraternity began with a few students determined to be Kappa Sigma.
"It's either Kappa Sigma or nothing," sophomore Austin Ruffing said.
Ruffing, along with other NKU students, has been in contact with the National Kappa Sigma headquarters on creating the fraternity at the university. The students were contacted by the headquarters and asked to start a colony at NKU. Before an organization can be considered a fraternity, they must be a colony, according to Ruffing. The colony must meet certain national requirements, such as community service and fund-raisers, before they can be accepted as a chapter.
Kim Vance, assistant director of Student Life, said the colony is beginning the process to join the Greek community at NKU. She said Thursday, Oct. 13, Kappa Sigma will be formally introduced into the Greek community during an awards ceremony.
"There seems to be a lot of support from the Greek community," Vance said. "I'm very excited (about the start of Kappa Sigma). I think it's great because it is definitely student driven."
Vance said she has met with Inter-Fraternity Council and "they have every intention of inviting Kappa Sigma to the council."
The colony has 25 young men as pledges that will be introduced as a group at the awards ceremony.
The fraternity is a chapter at other Kentucky schools such as the University of Kentucky and the University of Louisville.
"Kappa Sigma stresses being a gentlemen and also quality over quantity," Ruffing said.
Though a new fraternity may be added to NKU, it doesn't mean another sorority will begin, Vance said.
"Students think that there has to be an even number of fraternities and sororities, but that's not the case," Vance said.
"There isn't a law that says they have to be equal."
Vance also said that NKU's Pan-Hellenic Council decides when a new sorority will begin based on demand.
The introduction of Kappa Sigma went a little differently than, according to Vance. Since a national headquarters contacted the students and the efforts to begin the fraternity are strongly driven by students, the councils will invite the forming fraternity.
"When it happened it blew me out of the water because (the forming of Kappa Sigma) happened so fast," Vance said.