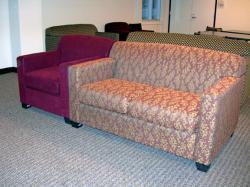 Money collected from residential housing damage fines last spring may not have been used this past year, but it doesn't mean that the university doesn't plan to use it, according to Housing Director Matt Brown.
Brown said that due to summer conferences held at Northern Kentucky University this past summer, maintenance was unable to fix many of the damages to the dormitories, especially in the University Suites.
"We were going to have to paint 150 to 200 rooms this past summer, and due to the conferences, we had 90 days to get all of the maintenance completed," Brown said.
If students were billed for room damages last year, and the damages were not fixed, they can contact Brown to be refunded. Brown said that money has already been refunded to students who have contacted him for these reasons.
Broken glass and with other essential items that are damaged, were repaired or replaced this summer. Most rooms are also on a three-year cycle, Brown said. Rooms with minor damage will be fixed every three years. Things such as repainting walls, fixing holes or scratches in walls or replacing damaged furniture will wait until maintenance has adequate time during when the rooms are vacant, Brown said.
Fines for damages range from $5 to $725, depending on the amount of damage and the area of the room that has been damaged.
"Every year, it gets tough to get everything done," he said.
A problem with replacing furniture on a regular basis in the dormitories is because of the cost.
"The total value of the furniture in the University Suites is $1.5 million," Brown said. "We don't always have the money to replace them because they are suppose to last for years."
Brown also said that with each passing year, the residential village has "more facility expenses that it can't afford."
Brown also said that the university doesn't use the money collected from damage fines for anything but repairing rooms.