Men's soccer split games
Hang on for a minute...we're trying to find some more stories you might like.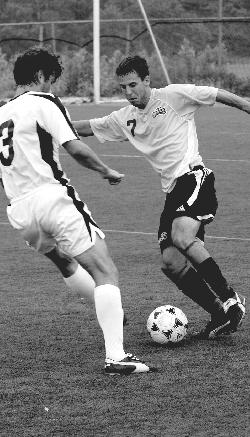 Tim Downer
In NKU men's soccer action this weekend, the team defeated Lewis 1-0 on September 23rd but lost to University of Wisconsin-Parkside 4-0 on September 25th. In the game against Lewis, sophomore forward Chris Thompson scored the lone goal for the Norse. Tony Capurro assisted him on the goal. Lewis tried to even the score later in the game but the first attempt at the goal and the rebound were unsuccessful for the Hawks. The loss to the Norse was the third consecutive for Lewis. In the game against Wisconsin-Parkside on September 25th, the Norse were shutout 4-0. Wisconsin-Parkside entered the game ranked 21st in the NCAA Division II men's soccer poll. Victor Perez notched the shutout for UW-Parkside. The Rangers were lead in scoring by Alen Osmanovich. He scored two goals and added an assist in the game. The Norse have not defeated UW-Parkside since 1997. With the loss, the men's soccer team record dropped to 6-3 overall, 4-2 in the GLVC. The team will host Truman State, a non-conference opponent at 7 p.m. Friday at the Town and Country Sports Complex in Wilder.
* Information contributed by Sports Information