Volleyball sweeps series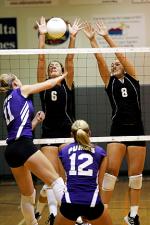 Tim Downer
HIGHLAND HEIGHTS, Ky. – Kristina Eisenmenger recorded a career-high 27 kills Friday night as the Northern Kentucky University volleyball team defeated Indianapolis, 30-24, 30-28, 29-31, 29-31, 15-13, in Regents Hall.
Eisenmenger, a freshman and a graduate of Notre Dame Academy, making her home debut for the Norse, also hit .442 as NKU opened Great Lakes Valley Conference play with a victory. The Norse improved to 12-2 overall and extended their winning streak to six.
Liz Holmes added 22 kills, 17 digs and a .526 hitting percentage as NKU held on for the win. Tristen Dye finished with 18 kills, while Andrea Lanham recorded 74 assists and 16 digs.
Eisenmenger slammed down eight kills and attacked at a .727 clip in the opening game as NKU coasted to a 30-24 win. She added another seven kills in the second game as the Norse took a 2-0 lead.
Indianapolis (6-7 overall, 0-1 GLVC) rallied, however, and won the next two games. With the fifth game tied at 12-12, Holmes hammered down an attack to give NKU a 13-12 advantage.
Brittany Dixon served an ace – a ball that grazed the top of the net, crawled over and hit the floor before the Indianapolis defense could react – to make it 14-12, but Whitney Boling converted an attack to cut the Norse lead to 14-13. NKU won the match on the next play when Boling's serve attempt sailed out of bounds.
Bethany Dulle led Indianapolis with 18 kills, and Lynne Ross added 15 kills. Boling had 13 kills for the Greyhounds, who held a 25-12 edge in blocks. NKU, though, finished with a 96-51 advantage in digs.
Lynne Fischesser added 21 digs for NKU, which hit .219 for the match. Dixon finished with 14 digs and three service aces for the Norse, while Maria Tieman served up three aces.
NKU upped its lead in the all-time series with Indianapolis to 34-3 and has won four of the past five matches with the Greyhounds. A year ago, the Norse defeated Indianapolis twice.
On Saturday, Liz Holmes hammered down 10 kills and finished with a .526 hitting percentage Saturday as the Northern Kentucky University volleyball team defeated Saint Joseph's, 30-12, 30-24, 30-17, in Regents Hall.
Holmes, a sophomore and a graduate of Mercy High School in Cincinnati, recorded the 10 kills in 19 attempts with no errors as NKU rolled to its seventh consecutive victory. The Norse attacked at a .372 clip for the match and improved to 13-2 overall, 2-0 in the Great Lakes Valley Conference.
Jennifer Wirtz and Kristina Eisenmenger each added 11 kills for NKU. Wirtz, a junior outside hitter, attacked at a .474 clip for the match.
Andrea Lanham directed the offense for the Norse and finished with 30 assists. The junior setter also added five kills, a .714 hitting percentage, eight digs and two service aces.
NKU took the opening game by attacking at a .500 clip and cruised to the victory. Saint Joseph's (3-10 overall, 0-2 GLVC) was held to a .050 hitting percentage for the match.
Julie Lewis added seven kills and a .375 hitting percentage for NKU, which upped its lead in the all-time series with Saint Joseph's to 28-5. Lynne Fischesser collected 10 digs as the Norse finished with a 43-25 advantage in that category. Natalie Forbes and Maria Tieman each served up three aces for the Norse.
NKU will hit the road to meet Rockhurst (Mo.) at 8 p.m. Friday. Rockhurst, in its first season in the GLVC, is currently ranked 21st nationally in the NCAA Division II poll.
The Norse will conclude the road trip next Saturday with a match at Drury.