Redwalls rock retro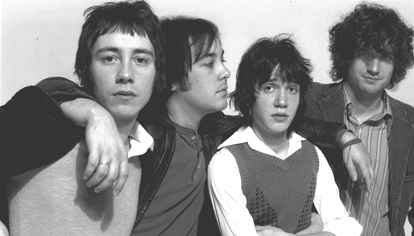 Courtesy of Capitol Records
They've got the mop-tops, they've got the stylish attire and they've got the boyish charm – but they aren't the Beatles. Far from British, the Chicago rock'n'roll quartet the Redwalls clearly emulates bands from the 60s and 70s, particularly the Fab Four.
Earlier this summer they released "De Nova" on Capitol Records, the band's major label debut. While the album has catchy hooks, precise harmonies and for the most part, stays in the vein of good ole' rock'n'roll, it's merely a reinvention of "Revolver" and "Let it Be." (Note: The Beatles mainstay was Capitol.)
De Nova opens with the soulful, horn-heavy tune titled "Robinson Crusoe," which introduces lead singer/guitarist Logan Baren's screechy, melodic vocals, much like John Lennon or George Harrison.
But the band is deceiving.
Track two "Falling down" has more of a modern influence. It's reminiscent of early Oasis, another band who worships The Beatles, and follows the mundane 4/4-pop structure. The same can be said for tracks four "Love Her," six "Hung Up On The Way I'm Feeling" and seven "On My Way."
Track three "Thank You," however, has the potential to be a single (they perfromed it on Late Night with Conan O'Brien). Although it attempts to conjure up Lennon once again, the song has a contagious, offbeat Americana structure and lyrics.
Track nine "Front Page" is another tune that could be one of the band's best works. The song opens with a layered 30-second sample of a sweeping helicopter, a broadcast report and a fire truck; it ends abruptly, introducing only Baren's distorted vocals and an ambient electric piano. As the song progresses, there is a sense that the band has finally figured out how to fuse retro and modern rock'n'roll. The next two tracks "How The Story Goes" and "Back Together" don't stand up to "Front Page" whatsoever. Both songs sound like Beatles' "filler" songs.
On the contrary, "Glory of War" is so simplistic, yet the lyrics carry the song. An acoustic anthem, Baren's vocals describe the position men were in during the Civil War. The band steps further back in time by hinting to 19th century compostion.
Finally, the CD closes with "Rock ' Roll." Conventional and only two minutes in length the song is better off as a hidden track,
Chiefly, "De Nova" is worthy of being on a major record label, however, flipping on any of the Fab Four's albums is just as good.