Jurassic summer trip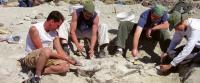 Jeremy Moore, Rath Robinson, Joshua Cooper and Sarah Christen.
"If you had any interest in dinosaurs as a child you will love this experience," said Joshua Cooper, Northern Kentucky University graduate said.
Cooper was describing the three weeks he spent in May excavating dinosaur bones in the mudstone of Utah. Cooper was one of four NKU students who traveled west to dig up 75 dinosaur bones from the Jurassic period. Accompanied by two professors, the team braved scorching heat during the day and severe windstorms at night while they dug in hard mudstone near Price, Utah.
The NKU sponsored trip was conducted in collaboration with the Cincinnati Museum Center's Museum of Natural Science. A group from Marietta College in Ohio also came out to the site. Geology professor Janet Bertog, leader of the Utah trip, said the museum particularly asked that the team look for micro fossils since little is known about the small animals that inhabited the earth during the Jurassic period.
Bertog says some very rare micro fossils might have been uncovered but it's still not possible to tell at this point since cleaning the fossils takes such a long time. "We have just barely started looking at them," she said.
Now housed at the Cincinnati Museum of Natural Science, the fossils are being prepared for exhibit. According to professor David Kime of the Honors Program, and a member of the expedition, preparing these fossils means meticulously chiseling away one grain of mudstone at a time. "They are excavated with as much rock around them as possible in order to keep them protected," he said. Kime earned a degree in geology and has been involved with NKU's geology program longer than any other full-time faculty member on campus.
The fossils collected range in size from 3 feet long down to the size of a pin. "It is so neat to think about how you are the only person who has ever seen these bones coming out of the ground," said junior geology major Sarah Christen. "It almost makes you a part of the history."
Christen and fellow students Cooper, Jeremy Moore and Rath Robinson earned three course credits through this independent study class. They felt that the experience was exciting and will look good on their resumes, but there were tough times.
"It takes a special person that is dedicated to go on the trip," said Moore. "You are far away from home in an element that you have never encountered. You have no