Suspect sketch released
Northerner Staff Report
September 6, 2005
Filed under News
Hang on for a minute...we're trying to find some more stories you might like.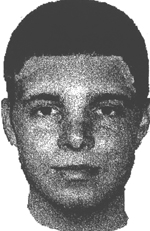 NKU Police Department
The University Police of Northern Kentucky University have released a computer generated composite sketch of a young man wanted for questioning in regards to harassing communications and attempted assault of a student. According to Assistant Chief Lt. Col. Jeff Martin, the victim received harassing phone calls on their dorm telephone line. Later that same evening the victim was grabbed by what is believed to be the same young man while walking from one dorm to another. The suspect is white, in his early 20s, has short brown hair and is from 6 to 6 feet 2 inches tall. Anyone who recognizes the individual should contact the University Police at (859) 572-5500.