Softball team ties national record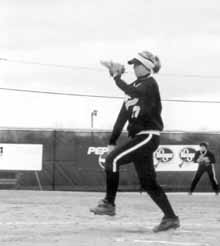 Blue
HIGHLAND HEIGHTS, Ky. – The Northern Kentucky University softball team tied an NCAA Division II record April 21 by winning its 40th consecutive game with a 6-2 victory over Indianapolis to complete a sweep of the doubleheader.
The 40 consecutive wins allowed NKU (40-0) to tie the record set by Kennesaw State in 1995. The Norse, ranked No. 1 nationally in the NCAA Division II poll, took the opening game by a 5-1 score as Krystal Lewallen tossed a four-hitter and struck out 10 batters.
Ricki Rothbauer went 2-for-4 with two runs batted in to key the NKU offense in the opener. The Norse scored three runs in the third inning to take a 3-0 lead and coasted to the victory.
In the nightcap, NKU rallied from a 2-1 deficit to post its record-tying victory by a 6-2 score. After Indianapolis had taken a 2-1 lead in the top of the third inning, freshman Sarah King belted a long home run over the wall in center field to tie the game at 2-2.
The Norse plated four runs in the fourth inning to take a 6-2 lead. Angie Lindeman's two-run single keyed the Norse's fourth-inning outburst.
Lewallen relieved starting pitcher Emily Breitholle in the third inning and did not allow a hit the remainder of the game to pick up her second win of the day. Lewallen, a junior from Crestwood, Ky., improved to 21-0 with the two victories. She finished with six strikeouts in the second game.
Rothbauer went 2-for-3 with two runs scored and an RBI for the Norse. Rothbauer is now batting .439 and leads NKU with 40 runs scored.
Stephanie Leimbach also added two hits in the nightcap and extended her hitting streak to 20 straight games. Leimbach is hitting .396 this spring and has scored 36 runs.
NKU improved to 12-0 in the Great Lakes Valley Conference. The Norse can set the record on April 27th when they play Ashland University.
*Article by Sports Information