Norse baseball splits weekend series
April 26, 2005
Filed under News
Hang on for a minute...we're trying to find some more stories you might like.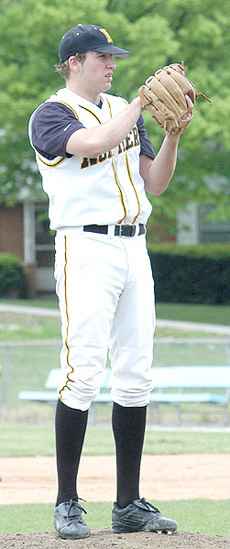 Blue
OWENSBORO, Ky. – The Northern Kentucky University baseball team lost a pair of one-run games at Kentucky Wesleyan April 23, dropping a 1-0 verdict in the opener and a 6-5 decision in the nightcap.
In the opener, Kentucky Wesleyan's Brandon Brooks tossed a two-hit shutout and struck out nine batters to outduel NKU pitching ace Derrik Moeves. Moeves, the Norse's junior right-hander, scattered five hits and allowed just one unearned run in six innings.
The only run came as a result of a passed ball in the fourth inning. Tyson Martin led off with a single and advanced to second on an error. After going to third base on John Grana's sacrifice bunt, Martin scored on the passed ball.
Kentucky Wesleyan left fielder Paul Richardson gunned down NKU's Keith Jackson at home plate for the final out of the game in the nightcap to preserve the Panthers' 6-5 win. Jackson attempted to score from second base on Alex Frank's single with two outs in the ninth inning, but Richardson's throw to catcher Chris Webb was in time to cut down Jackson at the plate and end the game.
Jackson went 3-for-4 with two runs batted in to lead NKU, which dropped to 23-19 overall, 15-9 in the Great Lakes Valley Conference. Frank was 2-for-4 at the plate, while Matt Wagers and Kory Lonergan each added two hits for the Norse.
Richardson went 4-for-5 with two RBI to pace Kentucky Wesleyan, which improved to 19-21 overall, 15-13 in the GLVC. The Panthers built a 6-2 lead after six innings, but NKU rallied for three runs in the seventh to pull within 6-5.
Jackson and Wagers each hit RBI doubles to spark the three-run seventh for NKU.
In the doubleheader April 24, Kevin Quick, Rick Wood and Steve Thomas combined on a one-hit shutout in the first game as the NKU baseball team posted a 2-0 win over Kentucky Wesleyan.
Matt Wagers went 3-for-3 with a run-scoring double for NKU, which bounced back from two losses April 23 to salvage a split of the four-game series with Kentucky Wesleyan. The Norse improved to 25-19 overall, 17-9 in the Great Lakes Valley Conference.
Quick, a freshman right-hander, allowed just a fourth-inning single in the first game and improved to 3-2 this spring. Wood pitched an inning of hitless baseball for the Norse, and Thomas came on in the seventh to record the save.
Josh Moulton had a triple and scored a run for NKU in the opener.
In the nightcap, NKU completed the sweep with a 6-2 victory. Wagers and Matt Jones each picked up two RBI to lead the Norse. Jason Nintrup went 2-for-4 with an RBI.
Mark Bogenschutz (1-0) pitched six innings and recorded the win for the Norse. Paul David Patterson relieved Bogenschutz in the seventh and went three scoreless innings.
The Norse will resume GLVC play April 30 with a doubleheader at Quincy.
*Article by Sports Information