Hot Seat with Kathy Stewart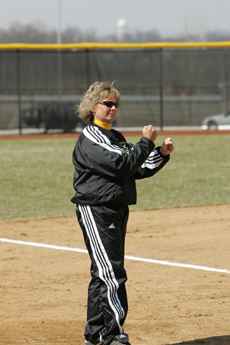 Blue
In this week's Hot Seat, John interviews NKU softball head coach Kathy Stewart.
John Rasp: Is there more pressure on your team if you host the regional for the second year after already winning it last year? Kathy Stewart: I personally don't feel pressure. The girls are pretty psyched up for any game we are playing. Actually, I think we will feel more comfortable playing at home.
JR: When you have such a good record, how hard is it to find opponents to play? KS: Very hard. I went through it when the GLVC/GLIAC tournament got cancelled. I'm going through it now.
JR: Out of you and assistant Chip Gregg, which one would most likely get a hit off of Krystal Lewallen? KS: Chip because he practices more on hitting than I do.
JR: If you were to get tossed from a game, what would you be most worried about with Chip taking over? KS: Chip calling out what he wants his batters to do instead of actually giving signs. Apparently, in the fall, that is what he did when I had to leave during a fall tournament. He didn't know the signs, so he screamed out what they should do.
JR: Do you have any superstitions as a coach? KS: Not really. I guess the fact that I fill out the lineup card and the scoresheet before every game. I guess that's a superstition.
JR: I know with Illinois' men's basketball team, everyone said that they should lose a game before going into the tournament. Do you feel that as a coach being 40-0? KS: To think that we could go undefeated is a scary thought. If we do lose, hopefully it is because that team is better than us on that particular day and we left it all on the field.
JR: How has softball changed since you were a student at NKU and now? KS: It's always been competitive, but I think the game is faster. Also, for part of the time that I was here it was slow pitch. The pitching now is outstanding and I think the hitting has caught up with some of the pitching.
JR: Which one of your pitchers would you most likely get a hit off of? KS: Probably none of them. The last time I swung a bat against a fast pitch pitcher is when I coached at Fairfield in 1992.