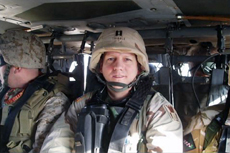 Steve Tribble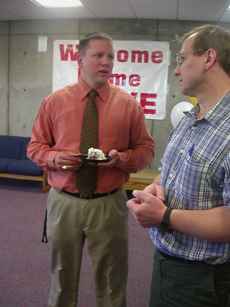 Steve Tribble
Wake up. Go to the office to do design work. Visit project sites. Go to lunch. Go back to work. Go home for the evening.
This is a typical schedule for someone reconstructing roads and buildings. Only in this case, work is in Camp Taji, located north of Baghdad, Iraq, and home is in an Iraqi air force base that had been bombed 12 years earlier.
"It was pretty mundane, except for the occasional mortar or rocket coming in," said. Capt. Steve Tribble, director of recreation at Northern Kentucky University.
Tribble spent a year working to reconstruct, renovate, modernize and maintain the former air base where he was staying in Iraq, he said.
Although Tribble has been in the U.S. Army Reserves since the time he enlisted in 1992, he received a phone call in January of 2004 from his regional director to inform him he would be in the next team to be deployed to Iraq.
"The phone rang one Sunday morning when we were just kind of hanging out at the house and it was the Colonel…I started saying, 'yes sir, no sir,' so (my wife) knew who I was talking to…By the time I hung up the phone she was already crying," Tribble said.
The phone call wasn't a surprise, he said. A lot of engineering teams had already been sent overseas. Each team consisted of seven people, either from the same unit or people from different units who had never been deployed. Once a warning call is given, it could be a week or up to a year before actual deployment, he said.
Tribble was deployed with Facility Engineer Team #9 (416th Engineer Command)
"Part of me was apprehensive," Tribble said. He quoted Gen. George Patton Jr., "No bastard ever won a war by dying for his country. He won it by making the other poor dumb bastard die for his country."
"That's not a goal of mine," Tribble said, referring to the quote, "but its good to train for these things and be able to put those skills to use."
After accepting his deployment, Tribble began to see the situation optimistically. He wanted to see not only his own unit, but also the other unit's tanks and helicopters and see how they operate during wartime procedures.
"I was kind of excited. It wore off pretty quick once I got there, but I was excited that I could go and be involved with something I thought was pretty important," Tribble said.
His family shared in his excitement – for the most part. His wife Marea had to not only assume the roles of her husband at their home, but also with their two children.
Their son, Taylor, 13, "is not quite so emotionally outward," Tribble said. "He tends to keep his emotions in, I think (the deployment) was always a concern to him."
Their 10-year-old daughter, Megan, was a little different. "She's a little daddy's woman. She's been a wreck," Tribble said.
After saying his goodbyes, Tribble arrived in Iraq in March 2004.
"It's a little bit of a shock when you first get there because you don't know what to expect," he said.
Before actually arriving to Iraq, Tribble had to go through a lot of different bases.
"It's a whole process. It's a pain in the butt," he said. Initially, Tribble was deployed out of Chicago where he obtained equipment. He then went to his assignment station in Missouri where he went through a brief session to refresh his training. Tribble and the rest of his team then traveled eight hours to an airfield, only to spend 16 more on an airplane to Kuwait, he said.
"(My nerves) in Kuwait were fine because nothing was really happening," Tribble said.
After spending a week in Kuwait for further training and equipment gathering Tribble traveled to Camp Victory located in Baghdad, Iraq.
"It's pretty amazing because once you get there, everything is going 100 mph in 100 different directions," Tribble said.
Since 150,000 troops were leaving as an equal amount arrived, Tribble's team was shipped 15 miles north to Camp Taji, where he stayed for the remainder of his time in Iraq.
Although their mission changed during the course of the year, their primary function was to reconstruct and design buildings of the dilapidated base.
During this time, Tribble had the responsibility of naming several of the smaller side roads.
"It kind of happened by chance. I'm not really sure how I got the assignment. every camp has a mayor, and our mayor wanted to use college mascots," he said.
Tribble decided that it was only fitting to name one of the roads after NKU.
"It was just a perfect match," he said of Norse Avenue. "It actually worked out great, I was naming all the small roads and they weren't (built) yet…and somehow Bulldogs Avenue, which is the one the mayor named… got deleted and Norse got named that road.
"Norse Avenue is like the second most used road on the post when it should've been just this little side road."
While Tribble was thinking of NKU in Iraq, the school was also thinking of him. Before his departure, he had been planning the renovation of the new fitness center in the Albright Health Center.
"Before he left, he had everything geared up for the new fitness center," Dean of Students Kent Kelso said. "He's the person who got that off the ground."
Kelso is the person who hired Tribble almost three years ago.
"His personality, his youth and exuberance – I could see the potential there, and he had a hunger. He wanted to be a director," Kelso said.
By the time Tribble left for Iraq, Kelso said he and his wife "had gotten to be pretty good friends with Steve. It was really more of a social relationship. I considered him one of my good friends."
The new fitness center wasn't the only things that happened while Tribble was away.
"Little things happened," Tribble said. "The garage door broke, the water heater blew up…The neighbors were incredible about helping my wife."
He also wasn't able to attend a season of football games in which his son was involved.
"(He's) very active in sports, and I always told him to try new sports. I always wanted him to try full-tackle football, and he did last fall when I was gone," he said. "I missed all the games, but my wife taped them. We've been watching some of them."
But Tribble didn't miss Christmas. He and his family opened presents together via Web cam.
"I had ordered some stuff online and had it shipped home," he said.
Not long after Christmas, Tribble came home in March 2005.
Tribble's family, friends and co-workers waited at the airport for his arrival. Approximately 20 people waited at the airport for Tribble's plane to land.
Kelso, one of the many co-workers in attendance, said, "We were on the lowest level, everyone was hugging and two stories above, a well-dressed woman hollered down. She didn't know Steve but saw he was a soldier being welcomed home. She yelled 'thank you, thank you, thank you.'"
The first thing Tribble wanted to do was "of course, hug my family," he said, "and go to Buffalo Wild Wings and have chicken. That was the first thing I wanted to do."
Although he arrived back to the area on a Thursday, he was unable to eat wings until the following Monday at a Hooters.
Since being back, Tribble realized "some things that were important to me before I left just aren't important anymore. Things I maybe didn't put a priority on before I left I do now."
Tribble said, "It's good to be back to a little bit of routine and little bit of normal."