Sorority celebrates its anniversary 'in style'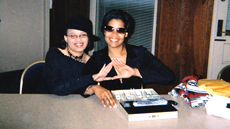 Devan King
The "divas" of Delta Sigma Theta celebrated their 10th anniversary last week in style. With an array of programs geared toward community involvement, Delta Sigma Theta set the standard for the next decade of future members.
Delta week started off with a victory at the Third Annual Step Show. With a giant red teddy bear as a backdrop, the Deltas dressed in pajamas and acted like future deltas, portraying them as giddy pre-teens amidst a slumber party. They recognized each of the black Greek fraternities by depicting the personal fraternity strolls.
"Their concept was very creative," junior Camille Perry said.
The Deltas won $500 for their chapter, a trophy, and bragging rights for the next year. They also won $50 for the stroll contest.
The Deltas attended a worship service April 10 at Tryed Stone Missionary Baptist Church located in Bond Hill, Ohio. The recently remodeled church is led by Assistant Pastor James Breedy.