High on Fire album builds metal legacy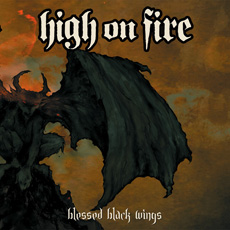 Relapse Records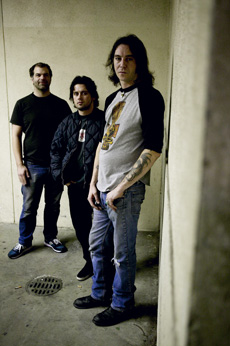 Relapse Records
Anyone who knows underground metal knows the band Sleep and its saddening demise.
For that matter, they should already know about former Sleep singer/guitarist Matt Pike's new band, High On Fire, which has logged hundreds of shows and two full-length records on everything people thought metal couldn't be.
Now comes album number three, Blessed Black Wings.
The song "Devolution" opens this monster of an album with a staggering drum interlude that surrounds your ears for the ambush that is to come.
It explodes into a driving chord progression, sprinkled with Pike's searing vocals that would probably confuse Lemmy Kilmister (Motorhead) in believing that he is a part of the fold. Gnarling guitar and solid bass, compliments of former Melvins bassist Joe Preston, are perfect appetizers for the body of the record.
What's evident to this recording is it's clearer than their previous efforts, 2000's The Art Of Self Defense and 2002's triumphant Surrounded by Thieves.
This time around, the band employed the production skills of Steve Albini who was responsible for Nirvana's In Utero and multiple Neurosis recordings. High On Fire however, still has their muffled-to-perfection sound. It's just now more decipherable.
"The Face Of Oblivion" is ushered in by Des Kensel's Neurosis-on-speed drum stylings with the rickety-boat bombast of Pike's guitar, fusing effortlessly with Preston's bass. The storm is only interrupted to reveal a deep rumble of notes from the hand of Pike.
The band is beginning to build a legacy in underground metal using sound structures rich in tone and form coupled with a devastating sense of rhythm.
The title track is the longest composition on the album. Walls of guitar stand strong around the fierce bass attack of Preston, who brings a new feel to the fold. Through this track, it is evident why both Pike and Preston are revered as veterans of intelligent rock music. The band's take on thinking-man's metal is stellar, and each listen reveals new layers of the madness.
"To Cross the Bridge" is another epic that almost reaches eight minutes in length.
Blistering swats of chunky fuzz perfectly served with break-beat drums and gritty screams. What's interesting about High On Fire is no matter how long they stick to a progression, it just sounds more intense as opposed to losing its power. This is due to Kensel's ability to drive a track to its destination with accuracy plus enough energy and soul to please the gods.
Blessed Black Wings is High On Fire's most ambitious effort to date, and it pays off.
The maturation of the band reveals a grace to the grind so nicely orchestrated, you wonder how High On Fire is merely a three-piece. Pike's compositions are thoughtful and aggressive, and with his precise rhythm section, there's no limit to his imagination.
Blessed Black Wings closes with an incredible instrumental piece called "Sons Of Thunder." Pike's guitar, rich with a phasing effect, skips through the absence on bass and drums. The earthy intro then explodes into a ballroom of distortion. Crunchy guitar sitting on the shoulders of Preston's low-end weapon almost sound as if they are trying to break through the knot of thunderous drums. All sounds culminate into a mass of screeching beauty that disappears back into Pike's phasing guitar.
Few metal bands can reach the level that Pike did with Sleep, but the living-legend frontman of High On Fire has only gotten better with age.