Donations keep future ensured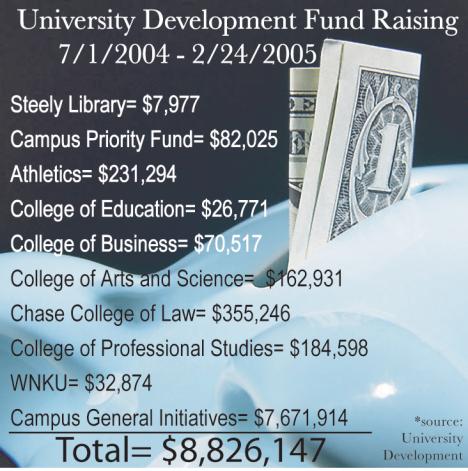 No new student union, no Bank of Kentucky Center, no lake renovation – at least, not without Northern Kentucky University's fundraising group, University Development.
Debra Reed, the vice president of University Development believes that the fundraising was a key part of getting those projects off the ground. "As a university that has been so under-funded, we knew that we couldn't count on the state to fund this," she said.
Five years ago, NKU used to net approximately $1 million a year in fundraising. At the end of this month, the fundraising for the year will be at $9.6 million according to Don Gorbandt, the assistant vice president for University Development. The fiscal year will end June 30.
"We should close the year out at a little over $10 million," Reed said. NKU has other ideas in mind to keep the success coming, according to Reed.
Soon, the group is planning on assigning a fundraiser to each college and having the dean of that college work directly with the fundraiser to make their financial needs known. "A number of people have already been hired and priorities established," she said.
Gorbandt attributes much of the success of the different fundraising campaigns to NKU President, James Votruba. "It's amazing…the private support is a reflection of the leadership," he said. "(Votruba) definitely gets involved. He's very hands-on."
Gorbandt said that it is typical for the president of any university to meet with donors who are willing to give $100,000 or more. "It's a component of his ruling and responsibilities, but not all," he said.
Another reason for the success of the fundraising success is the improved image of NKU, according to Gorbandt. "I think a lot of it is that the university is perceived in a different way," he said. "We supply the work force in the community and turn out graduates that people want to hire."
Gorbandt knows that students have questioned the tuition raise when it seems like so much is being built on campus. "They think (the work) is done with state dollars," he said. "That's why we always try to have a sign or a plaque out saying that this was done with donor dollars."
Reed agrees. "People just don't have a sense of where the money comes from," she said. "The private donations have really made a difference here."
Senior Prospect Researcher Beth DeVantier tries to find prospective donors and see if they have any inclinations to donate to the university. She looks for donors in various ways. "The development officers give me names, I go through the obituaries, and I read articles about new companies," she said. "I provide the support (University Development) needs to get it going."
DeVantier also cited Votruba as a big reason for the fundraising success. "The major donors see him as the driving force," she said. "He has a plan and he follows through with it. I'm a strong believer in Dr. Votruba and what he's doing for this university."
The money that is collected through fundraising goes wherever the donor wants it to go. They can choose a specific college, NKU athletics, Steely Library, WNKU or to let the university decide which financial need to use it for.