Tiger Woods wins his fourth Masters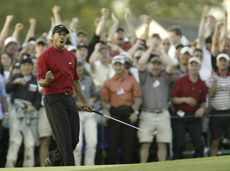 KRT Campus
Tiger Woods is back, and in a major way. His victory at the Masters April 10 was the capper to an incredible four days of golf.
By winning the tournament, Woods reclaimed the number one ranking in the world and silenced his doubters by winning his first major since the 2002 U.S. Open.
But he needed a little bit of luck. Going into the final round, Woods was four shots back of the leader Chris DiMarco. DiMarco, who watched from the 18th green last year when Phil Mickelson won the tournament, played brilliantly all week and was determined to a little history of his own. In a span of 22 minutes, Woods was able to make up the four-shot deficit on just two holes en route to a third round score of 65.
When play resumed later in the day, Woods' hot streak continued. He immediately jumped out to take a three-shot lead, and fans soon started to wonder not if Woods was going to win, but by how many strokes. DiMarco then mounted a comeback of his own, and the two continued to slug it out throughout the back nine holes, which lead to a magical encounter at the par-3 16th that will be talked about for years.
After shooting his tee shot well over the hole, Woods faced a near impossible second shot that would have to be placed perfectly for him to even have a chance. After analyzing the numerous angles of which to approach the shot, Woods chucked his ball a good 25 feet above the hole and watched it trickle down the slope and stop right on the lip of the cup, and after a two second delay, pandemonium spread throughout the gallery as the ball fell in. After making one of the most difficult shots in Masters history, it looked as if destiny was on Woods' side.
Going into the final two holes, Woods only needed to make par to secure the victory but was not able to do it. After hitting two bad tee shots, Woods was now the one scrambling to stay alive. He was able to do so by bogeying both the 17th and 18th holes, setting up a playoff hole between Woods and DiMarco.
The playoff hole would be played on the 18th, and after placing a much better tee shot, Woods was able to secure the victory by hitting a 15-foot birdie putt. Woods finished the round shooting a one-under 71, and both players shot 12-under 276 for the tournament. For DiMarco, it was his second consecutive sudden death loss in a major, and for Woods, perhaps the most gratifying win of his career.
Woods now joins the likes of Jack Nicklaus and Arnold Palmer with having four or more wins at Augusta. This victory could be a stepping stone in making 2005 the year of the Tiger.