Students debut original plays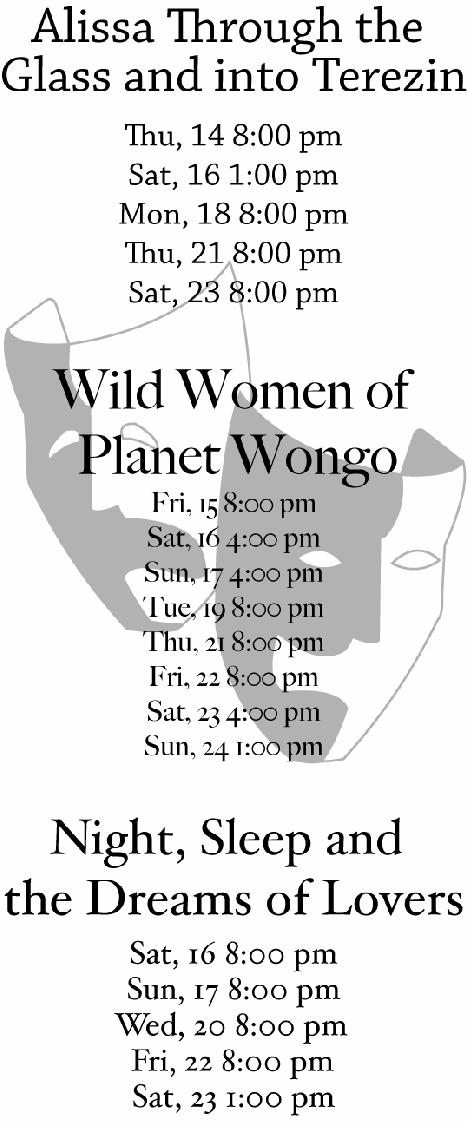 The plays have been chosen, the actors have rehearsed and April 14, three productions will be performed for the first time by the Northern Kentucky University Department of Theatre and Dance in the 12th biennial Year End Festival (Y.E.S.).
The festival chooses and debuts original plays onto the theatre scene.
This year, the NKU Theatre faculty read more than 250 play scripts to choose the three plays being performed this year.
"It's very different than the last one, different kinds of subject matter in the way everybody's concepts are different," said Sam Reno, set designer for "Allissa through the glass and into Terezin."
Reno also said there have been a number of shows that have gone on to be published that are successful that were first produced at the Y.E.S. festival.
Since Reno is the set designer, she likes the festival because "it's your chance to be original," she said.
Alissa Through the Glass and into the Terezin
Opening the Y.E.S. festival April 14, this production depicts the surreal environment at a concentration camp located in Terezin during the Holocaust.
This play is seen through the eyes of Alissa, the daughter of Jewish woman and a German soldier.
Written by David Eliet, who has published 10 plays in his career, this will be the first of the three plays to debute to the theatre scene.
The production, produced by Brian Robertson, will open at 8 p.m. in the Corbett Theatre.
Wild Women of the Planet Wongo
The middle child of the three plays opens April 15. Written by Ben Budick, Steve Mackes and Dave Ogrin, this musical satires science fiction movies of the 1950s with three astronauts lost in space crashing into planet Wongo – inhabited by beautiful women. This play is directed by Ken Jones and musically directed by Jamey Strawn. This production opens at 8 p.m. in the Black Box Theatre.
Night, Sleep and the Dream of Lovers
The third play to be featured in the festival will open April 16.
The production follows a group of friends, close acquaintances and distance associates all who deal with the fine line between genius and madness. They follow a talented artist as they also try to find the line between promotion and exploitation.
The production depicts these same individuals in the future as they discuss the mystery of the vanished artist. Written by David Brendan Hopes and directed by Mary Jo Beresford, this play opens at 8 p.m. in the Corbett Theatre.