Students compete in charity event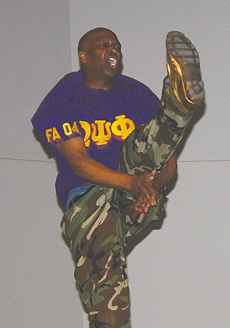 Amanda Davidson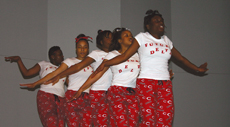 Amanda Davidson
Hip hop, R'B, funk, stepping, dancing, sketch comedy and Greek calls filled Greaves Concert Hall April 10, during the Northern Kentucky University National Pan-Hallenic Council, Inc.'s third annual Spring Step Off.
The trophy for best sorority went to NKU's Delta Sigma Theta, Inc., whose members wore pajamas while performing amongst a set of props including a giant red teddy bear, stuffed animals, toys and a Nintendo.
The women performed a skit where they acted as grade-school-aged "Future Deltas" at a sleepover party and, at one part, used canes as part of their step routine.
Devan King, NPHC president and Delta member, said the $500 grand prize was a great way to start off the Delta's 10th anniversary "Delta Week" celebration, which began with the step show.
The best fraternity performance went to Western Kentucky University's Omega Psi Phi, Inc., whose members wore purple shirts, army pants and gold boots.
Also known as the Ques, Omega Psi Phi edged out Phi Beta Sigma, Inc. and Kappa Alpha Psi, Inc. for the trophy.
During a comical part of their routine, the Ques pretended to answer phone calls from other fraternities, who they immediately hung up on.
However, the third time they received a call from the Delta sorority, to whom they responded, "What's up?"
Starting off the competition was Phi Beta Sigma, Inc., from Knoxville University, who were dressed in overalls, rolled-up pant legs and straw hats, and then changed into shirts and ties. Phi Beta Sigma, Inc. used chairs as part of their performance.
Kappa Alpha Psi, Inc., from Kentucky State University, used canes for most of their step, and later they enticed female members of the crowd by throwing roses to some of them.
Entertainment also came from the Stepping Dragons, a 12-member elementary school class from WEB DuBois Academy in Cincinnati, who warmed up the crowd with a performance before the competition. At one point in their performance, two children used another one as a jump rope while two other children jumped over her.
The competitions continued through the intermission, during which a stroll contest was held.
Delta Sigma Phi Sorority, Inc. won, earning a $50 prize and bragging rights.
The step show attracted more than 300 people and raised about $2,500, including proceeds from the after party, according to Devan King, NPHC president.
King said a portion of the proceeds will go to Up 'til Dawn, to starting a book scholarship and to establishing a grant.
For more information about NPHC events, visit: www.nku.edu/~nphc