Sorority rocks for charity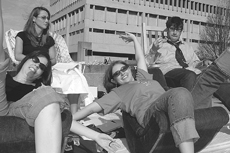 Karen Lunn
Northern Kentucky University sorority Phi Sigma Sigma raised nearly $2,000 for the National Kidney Foundation after 27 hours of rocking chairs, loud music, and sore butts,
The sorority's charity event, the "Punk Rock-a-thon," was held in the UC recreation room and started Wednesday at 9 a.m. Karen Lunn and Amanda Trufan, members of Phi Sigma Sigma, coordinated the charity event.
"It's a really big deal to us," Trufan said. "A lot of our girls have dealt with (kidney problems) in their families."
Each member of the sorority raised and donated a minimum of $25 to the National Kidney Foundation. The members either received pledges from supporters by rocking in rocking chairs or paying out of their own pockets.
During the afternoon, the sorority sponsored "Lunch for a Buck" and served pizza and soft drinks while a DJ, played music.
Later that night, three bands performed. Last in Line, an acoustic duo, opened. "We were really surprised; we didn't think there were going to be that many people here," Mike Dweigan, said guitarist of Last in Line.
The Post-its, a ska/punk band, played next, and they stirred up the crowd of sorority women and fans with their rendition of Third Eye Blind's "Semi-Charm Life."
Following the trend, the last band played a few popular songs as well. By the time this band finished their performance hardly anyone stood still.
"I know all the girls and all the fraternities had just an absolutely wonderful time with all the bands," said Denise Dirkes, president of Phi Sigma Sigma.
The bands played the charity event for free but received pizza and other gifts for their time. "We've done a lot of different things with (organizing) our Rock a Thon," said Dirkes. "Bringing in the bands just makes all the fraternities and sororities more interested I think."
The sorority later held a Texas Hold'em tournament, which lasted from 1 to 2 a.m. The proceeds of the tournament also went to the National Kidney Foundation. The Rock-a-thon came to a close about noon on Thursday.
Even though Phi Sigma Sigma didn't meet their $3,000-dollar goal, they were happy with the results. "We just hope that we raise awareness for the National Kidney Foundation and let people know that when people go through dialysis they have to rock," Dirkes said. "And it is time consuming so we just kinda want (people) to feel what they feel."
Diana Ruesch, a member of Phi Sigma Sigma "rocked" for nearly 15 hours. "We had a lot more people that came out and supported us this year" said Trufan. "We might not have made as much money as we hoped to but overall, it was a bigger success."