Norse take series against Lewis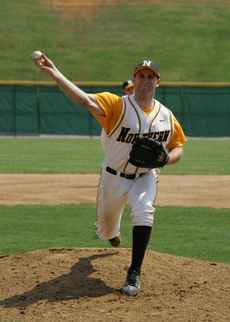 Blue
The Northern Kentucky University baseball team enjoyed a successful weekend, winning three of four games at home against Lewis.
The successful series was important to the Norse, improving the team's record to 11-11 overall, and putting them at 8-6 in the Great Lakes Valley Conference.
The Norse picked up a 2-0 victory in the first game of the series behind a dominating performance from pitcher Derrik Moeves.
Moeves struck out nine batters en route to throwing the shutout while allowing only three hits and walking one batter.
"We made some adjustments to (Derrik's) delivery," NKU Head Coach Todd Asalon said. "It finally kind of clicked. The victory was good for his confidence and our team's confidence."
The win improved Moeves' record to 2-3 on the season. Keith Jackson and Jason Nintrup led the Norse, each getting two hits, with Jackson driving in one run.
The second game featured more offense from both teams, but the Norse held on to collect a 7-5 win.
Pitcher Rick Wood kept his record perfect, improving to 3-0 with the victory and striking out six batters in seven innings. Steve Thomas picked up his third save of the season for the Norse.
Outfielder Josh Moulton led the NKU hitters, going three-for-four at the plate.
The second day of games started off with a 5-3 loss for the Norse.
NKU pitcher Matt Marksbury pitched a completed game and struck out five, but was handed his first loss of the season with his record dropping to 3-1.
Lewis got on the board in the top of the fourth inning, scoring all five runs with two outs.
The second game saw the Norse come back and hold on to the victory against Lewis.
NKU trailed 3-0 entering the fifth inning before rallying to take the lead.
A Kory Lonergan single plated the first run of the inning for the Norse to get the lead down to 3-1.
The big hit came for the Norse when Alex Frank hit a three-out home run with two outs to give the Norse the lead.
The Norse picked up an insurance run in the sixth inning after Joe Kendall doubled to lead off the inning and scored on a Moulton single.
Kevin Quick picked up his first win of the season for the Norse, and Thomas got his fourth save of the season to wrap up the series.
"Our goal is always to win three out of four at home," Asalon said. "It's always important to win at home. We had a good weekend."
Getting to over .500 in the conference was big for the Norse, but not unexpected.
"We talked about (the importance of winning)," Asalon said. "We've discussed how it's time for the cream to rise to the top. We're coming on strong now, as we tend to do every season."