Campus community remembers pontiff's life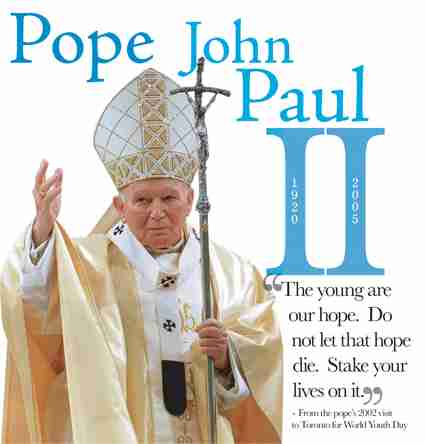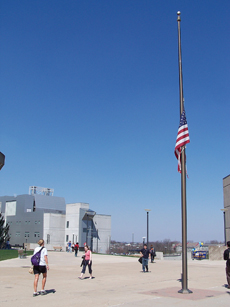 Danielle Mastin still remembers the simple wave she once received from Pope John Paul II.
"It was a once-in-a-lifetime opportunity," said the freshman pre-nursing major.
Mastin traveled to Toronto with a Catholic youth group for the 2002 World Youth Day, an international celebration held by the pope every two years that attracted 800,000 people. She said seeing the pontiff is one of her most valued life experiences.
"It's amazing that he took time out to be there for the youth and to share the faith," Mastin said. "A lot of people don't think the youth get involved (in Catholicism) … but the pope took a stand with the World Youth Day (program)."
Mastin said she took the pope's message of youth evangelization to heart by joining a youth Catholic retreat team in the Diocese of Covington.
Heiner Koch, secretary general of World Youth Day, praised the pope for his creation of the program that was started in 1986.
"With the death of Pope John Paul II, the youth of the world has lost one of its greatest advocates," Koch said in a statement.
Mastin is part of is largest faith denomination on campus. Nearly one in every three students at Northern Kentucky University is Catholic, according to Stephanie Baker, university research analyst.
Al Cucchetti, campus minister at the Catholic Newman Center, said the pope was a role model for all students, not just Catholics.
"We lost a great man who was the embodiment of what Christ was all about," Cucchetti said. "What made him so awesome was that his walk was like his talk. Not only did he teach with conviction, but he lived by conviction."
Brian Combs, campus minister at the Baptist Student Union, agreed that Pope John Paul II was a moral leader for all.
"Even if you're not a very religious person … you would be impacted by the pope and his life," he said.
Combs said looking back on the pope's life provides an opportunity for people to evaluate what kind of a difference they are making with their lives.
Robert Kenney, a philosophy professor, said the pope had a great influence throughout the entire world.
"People might disagree with what the pope had to say about divorce or birth control or things like that," Kenny said, "but they knew that as far he was concerned you had to have some sort of moral integrity."
Kenney said the pope will be remembered, among other things, for his work toward improving interfaith relationships, which earned him respect throughout the world community.
"The pope's death was a loss to all the world," Kenney said.