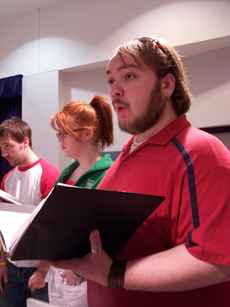 When Steven Shafer learned he will be performing in the Lyrique en Mer festival off the Brittany Coast of France this summer, he wasn't worried about learning the music, performing in front of thousands or flying across the ocean – he was worried about the language.
"I don't speak French," the freshman voice major said.
The festival takes place in an English-speaking location and most of the people who work for the festival speak English, but Shafer said,"it still kind of worries me."
Lyrique en Mer, one of the largest festivals in western France, has performances of opera, sacred music and concert hall music in venues throughout Belle lle en Mer, an island near the country.
Shafer, a baritone opera singer, will be working with the festival from July 9 until August 21 with his music mentor, Richard Cowan, who is also the artistic director for Lyrique en Mer.
"(Cowan) mentioned the festival to me last semester in passing," Shafer said.
After some collaboration between the two, Cowan "basically just said, 'you're in.'"
Shafer is singing in the chorus of several of the operas as well as covering one of the lead roles featured in the festival.
"I told my mother right away," Shafer said. "(She) is a huge influence to me…she's a spectacular, amazing person."
The kind-heartedness of his mother, along with the discipline of his father, allowed Shafer to fully develop his voice. "Both of my parents are exceptional people," he said.
Along with Shafer's parents and his best friend, Kathleen "Kaddy" Nagle, Cowan is one of his major influences.
"He's done so much with my voice that it's almost unreal," Shafer said. "From the time that I started school last semester to right now where I am, there's just light-years (in difference)."
Not only does Shafer see a difference in his voice, but his mentor does as well.
"He came to me and I heard a lot of talent and a lot of problems in the voice," Cowan said. "It made me kind of salivate because I could do some good work. It's a good relationship because Steven is a very hard worker and we're both dedicated to improving his voice."
Cowan wasn't the first person to work with Shafer's voice; Shafer started in music in an elementary school choir. Then he played bass clarinet from middle school until the beginning of high school.
After taking a break from music his sophomore year of high school, Shafer decided to audition for the school's choir. He said the choir director's "jaw basically just dropped," after hearing him sing.
Previously, he had little experience singing – let alone operatically.
This changed after working with a couple of voice teachers. He attended the Governor's School for the Arts at Transylvania University in the summer of 2000, where he met A.T. Simpson.
"He became my force," Shafer said of the co-director of the program. "He's the one who started developing my voice."
Simpson began to work with Shafer as his voice was just beginning to grow.
"The potential was astounding," Simpson said. "I was one of the first people who told Steven, to his face, that the sorts of things that are available in the professional world are available to (him).
"The basic thing about Steven's voice, essentially, was an incredibly beautiful instrument."
That instrument is what has allowed Shafer to succeed not only at NKU, but also regionally. He placed third in a competition sponsored by the National Association of Teachers of Singing last month.
The competition was only one way to prepare Shafer for this summer's experience, which is funded mostly by NKU through the study abroad and International Affairs office. The trip will to be a way for Shafer to interact with hundreds of professional opera singers from across the country and world, Cowan said.
According to Simpson, a lot of opera singers from this area have to do a "European immersion kind of thing.
"Lots of singers don't really start to do that until later," he said. "The ones that can get that experience early are ahead of the game."
The trip to France will be considered a study abroad, counting for three credit hours. The experience is more difficult than an ordinary overseas study because it involves daily rehearsals and performances every night.
"I've always had this real intense passion for opera," Shafer said, "So now to be gifted with the singing, it's great."