Pope dies at 84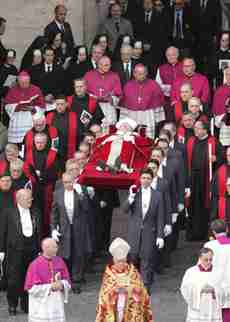 KRT Campus

KRT Campus
VATICAN CITY – Pope John Paul II passed through the ornate front doors of St. Peter's Basilica one last time April 4 as the Roman Catholic Church began an elaborate farewell for the only leader that many of the church's faithful have ever known.
Three hours later, the first of an expected 2 million visitors filed into the basilica to take a last look at the man who's credited with hastening the downfall of communism and who visited more than 100 countries during his 26-year papacy.
Joaquin Navarro-Valls, Vatican spokesman, said April 4 that the funeral for the pope, who died April 2 after heading the billion-strong Roman Catholic Church since 1978, will begin at 10 a.m. April 8. Afterward, he'll be placed in a tomb once occupied by Pope John XXIII, whose body John Paul II had moved to a higher and more honored spot in St. Peter's during his reign.
The pope's body had been lying in state since Sunday in a hall below his official residence, visited only by church officials, workers and members of families with longtime ties to the Vatican. At 4 p.m., dressed in red and white vestments, he was moved, in a slow procession, across St. Peter's Square, into the basilica.
A singer chanted the names of saints, in Latin: Mary, John the Baptist, Peter. In response, a choir chanted, "Pray for him."
Even by papal standards, the crowds were huge. Well before viewing began, much of Rome seemed to stream toward Vatican City. The stadium-sized bowl of St. Peter's Square was filled, people jammed shoulder to shoulder, and a river of humanity flowed down the wide, cobbled Via Della Conciliazione toward the square.
Fully a half-mile from the square, police blocked more people from pushing forward, as a city worker warned that the wait to view the pope will be "long and uncomfortable."
"The crowd has already filled the square, so do not go forward thinking you will walk to the Holy Father quickly," police warned.
Few, if any, turned back, however, and Vatican officials predicted that those who will pass by the pope will far outnumber the estimated 750,000 pilgrims who showed up during the three days of viewing for Pope John Paul I.
Chiara Corrado, a 21-year-old Roman and Catholic, said she'd been to see the pope three times before but hadn't been able to return during his last days. She said it was important to her – despite the monstrously long wait – to file past the pontiff's body.
"In the past, we came to see him, many of us, in large crowds," she said. "This is a chance to say goodbye, one to one, to a great man."
The procession was a mix of ancient tradition and modern technology. Giant screens broadcast the Renaissance-era pageantry to the tens of thousands too far away to see the procession.
Hundreds stretched their arms skyward to snap photos with camera cell phones. The crowd applauded each time the pope's body came into view, and throughout, men and women dabbed their eyes with tissues.
Mildred Mendoza, 34, who lives in Rome, said she had to be there for the same reason that everyone else felt the need: "We love him so much. He made such a difference in our lives."
The pope was carried into the basilica, where incense was burned and was sprinkled with holy water as Cardinal Eduardo Martinez Somalo, the Spanish Vatican official who will lead the transition between popes, read "the priest's prayer," the words of Jesus shortly before his arrest and crucifixion: "Just Father, the world hath not known thee; but I have known thee: and these have known that thou hast sent me."
Once visitors were allowed in, Swiss Guards urged them to keep moving, allowing only enough time for a quick sign of the cross.
Many later stopped before Michelangelo's Pieta, or in one of many side altars, to briefly kneel and pray. The rosary was being chanted on loudspeakers.
Monica Meloni, 36, and her 8-year-old daughter, Francesca, traveled overnight from their island home.
After viewing the pope, they left with a sleeping bag, hoping to find someplace to spend the night.
"My daughter told me, `Mama take me, I want to say goodbye,'" Meloni said. She noted that the visit was brief but moving.
"It was too little," she said. "I wanted to stop and talk with him, tell him of my hopes and my worries, but it was so fast. This will stay with me always."
In 1978, the funeral of Pope John Paul I attracted one head of state, and he came from Italy. This time, the list is long and growing.
Among those expected to attend: President Bush and first lady Laura Bush and former Presidents Bill Clinton and George H.W. Bush.
Prince Charles postponed his wedding by a day to attend. In all, the guest list now includes eleven presidents and nine prime ministers, including Tony Blair of the United Kingdom and Mikhail Fradkov of Russia.
Roman officials moved quickly to provide for the expected onslaught, scheduling additional trains into the city and providing a network of shuttle buses to ferry visitors to Vatican City.
Taxi drivers have been told to turn off their radios this week, out of respect, and the city is opening up several of its largest sports centers – including Olympic Stadium – to house visitors at night.
As many as 1 million Polish visitors are expected, and already April 4 200 busloads of pilgrims from the pope's home country were said to have arrived.
Indeed, there had been hopes in Poland that the pope would be buried in his homeland, but Vatican officials said the pope left no such instructions.
Outside St. Peter's the tributes were as varied as the countries the pope had visited in his travels.
Nuns from Senegal and Hungary recited rosaries as they sat cross-legged on the cold cobblestone, leaning on one another for warmth and support.
A few feet away, a young woman wrote a text message on her cell phone, with a rosary around her wrist.
Nearby, a bed sheet lay on the ground, surrounded by candles and ballpoint pens. Passersby were welcomed to sign the sheet, and by late afternoon it was nearly filled, front and back, both with signatures and flowers.
Mirek Ziemek, 23, a seminarian from outside Krakow, watched the signers for a minute before crouching in his cassock to sign his name and that of his seminary.
"Because I will one day be a priest," he explained in broken English.
Mourners also made shrines of the ornate lampposts in the square and of the famous Egyptian obelisk at the square's center, heaping them with trinkets, rosaries and personal notes.
Many of the notes were in Italian and began with greetings such as "Caro Papa" and "Carissima Papa" for dearest, and simply "Addio, Grande Papa."
Others were addressed to Karol, the pope's given name.
In English, one note said, "We brought love for Papa on behalf of the people of Bangladesh."
"May your gentle soul rest in perfect peace," read another.
Chris Talbot signed his, "an old friend from Ireland."
An English woman said she'd been in Rome on business when the pope became ill and died, so she stayed on.
"He saved my life," she said, explaining that she'd attempted suicide twice when "I found his love for Our Lady and for Jesus. He brought me from despair to Christ. I feel very close to him."